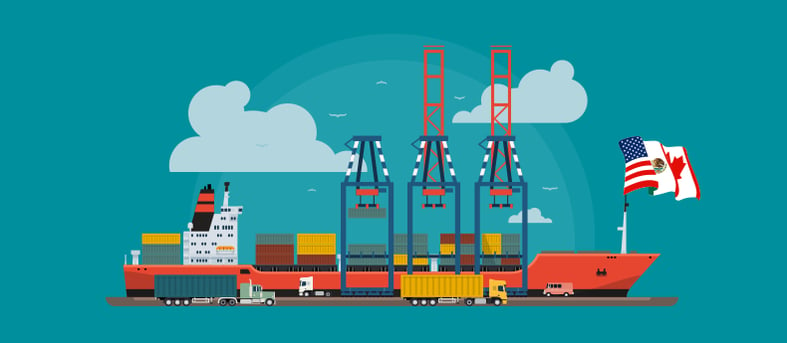 Are the new proposed NAFTA intellectual property provisions progressive? International intellectual property obligations need to progress with changes in technology, while at the same time not creating an economic burden.
The new NAFTA provisions will be a tightrope walk of modernising the trade agreement without creating financial constraints or affect the public interest right to use intellectual property works with fair use and other defenses and exceptions.
There has been a lot of speculation as to how the NAFTA renegotiations will affect intellectual property and trade between the United States, Canada and Mexico. The first round took place between August 16th and August 20th in the United States in Washington, D.C. The second round began on September 1st, 2017 in Mexico and the third round was completed between September 23rd to 27th, 2017 in Canada. The renegotiations were initiated by the U.S. on May 18th, 2017, in order to meet with US Objectives which were in line with the Trans-Pacific Partnership Agreement (TPP) which the U.S. walked away from earlier in 2016. However, any changes implemented will likely take more than a year before they come into effect.
If implemented, changes to NAFTA would bring stronger intellectual property protections ensuring Canada and Mexico intellectual property laws are more in line with the United States. These changes will reduce trade barriers for the US and change the future of intellectual property law internationally.
The US Objectives include requiring members states to adhere to international trade treaties, increase intellectual property protection and enforcement to the same standards as in the US, increase criminal penalties, and provide access to an international cross-border data flow. Some of the following changes may occur with the renegotiation of a new NAFTA 2.0:
Border Measures Against Piracy and Counterfeit Goods
Canada passed Bill C-8, the Combating Counterfeit Products Act on January 1st, 2015. It permits border officials to take some broader measures on their own initiative and brings with it some additional criminal penalties but does not include goods in transit through Canada to the U.S.
The U.S. Objective is likely to bring stronger intellectual property border enforcement in the next version of NAFTA, as counterfeit goods coming through Canada have been a long-standing issue.
Increase Copyright Term
The US Objectives would require Canada and Mexico to adopt intellectual property laws with respect to patent, copyright and trademark that are similar to intellectual property rights in the U.S.
The US Objectives exceed obligations of international treaties (such as the extension of the copyright term of life plus 50 years to be in line with the US copyright term of life plus 70 years).
Tighten Copyright Protection for Online Infringement and Piracy
Implementation of the US Objectives would result in increased copyright protection measures when it comes to Internet service provider liability for third party copyright infringement. In Canada, Internet Service Providers are provided with a "safe harbour" for online copyright infringement if they forward a notice of alleged infringement according to the "notice and notice" regime.
However, the US system is a "notice and takedown" regime pursuant to the Digital Millennium Copyright Act (DMCA) also requires the alleged copyright infringer to take down the infringing material. NAFTA does not have a notice and takedown regime, but with the new US Objectives, this could soon change.
Circumvention of Technological Protection Measures
Canada prohibits the circumvention of technological protection measures (TPMs) under The Copyright Modernisation Act of 2012 and sets out criminal remedies and liability for providing services or enable others to circumvent TPMs. NAFTA currently does not contain any such provisions that prohibit the circumvention of technological protection measures.
The US Objectives of providing protection for emerging technologies and providing strong criminal enforcement appear to be in line.
Civil and Procedural Remedies
NAFTA remedies for intellectual property infringement include damages, injunctions and destruction of infringing goods. Canadian law already appears to be in line with the US Objective of strong intellectual property rights enforcement through civil, administrative and criminal enforcement.
Canada's Copyright Act provides for injunctions, damages, accounts and delivery up of offending materials. Its Trade Marks Act provides for injunctions, recovery of damages or profits and destruction of offending materials. Canada's Patent Act provides for damages and injunction and in practice, the destruction of goods that infringe patents.
Non-Commercial Infringement and Statutory Damages
The US Objectives of enforcement of criminal penalties provision would require a change in Canada's current law that protects Canadians from statutory or significant damages for circumventions for private purposes (such as circumventing the digital locks on private DVD collections). It is also argued that such increased protection for technological protection digital locks could conflict with some data that is in the public domain.
Canada also changed its' law in 2012 by reducing statutory damages for copyright cases of "non-commercial" infringement from $5,00-$20,00 per infringed work to $100-$5,000 for all infringed works. Statutory damages are not available for trademark infringement. While NAFTA does not have a statutory damages requirement, the US Objective could change Canada's statutory regime for non-commercial infringement and add statutory damages for Trademark infringement.
Patent Law
The U.S. will push for patent standards to be more patent friendly than Canada's current patent requirements which may not be in Canada's best interest. The Canadian requirements for patents (utility, non-obviousness, disclosure and enablement) are lower than the United States. Generally, Canada is more favourable than the US in granting patents (except in some areas such as the patent term extension which is two years in Canada versus five years in the U.S.; the period of data exclusivity for biologics which is 8 years in Canada and 12 years in the United States).
Earlier this summer, in June 2017, the Supreme Court of Canada changed Canadian patent law by ending the Promise Doctrine. The Promise Doctrine came into force in 2005 and allowed a patent on a drug to be overturned if it did not live up to its promises to the satisfaction of the U.S. The SCC ruled that the doctrine is not the proper way for determining whether the utility requirement under Section 2 of the Patent Act has been met.
Summary
There has been a lot of commentary focused on how the Trump Administration is handling the renegotiation, but the results remain to be seen. However, any renegotiation of intellectual property rights provisions in NAFTA should be conscious of future technology changes and be current with the times while balancing fair use and the right to exceptions. While they should not exceed the intellectual property obligations of international treaties of member states, they need to keep pace with the time.
So, while some changes to NAFTA can be modernised such as safe harbours for ISPs for copyright infringement online, and increasing enforcement, others may be onerous and unnecessary. The modernisation of NAFTA could also result in conflicts between domestic and international law, such as the criminal penalties for circumventing digital locks and technological protection measures. NAFTA is not as bad as Trump seems to think when it comes to intellectual property but a little updating wouldn't be such an entirely bad thing either. Strengthening intellectual property enforcement and protection benefits creators, scientists and innovators.