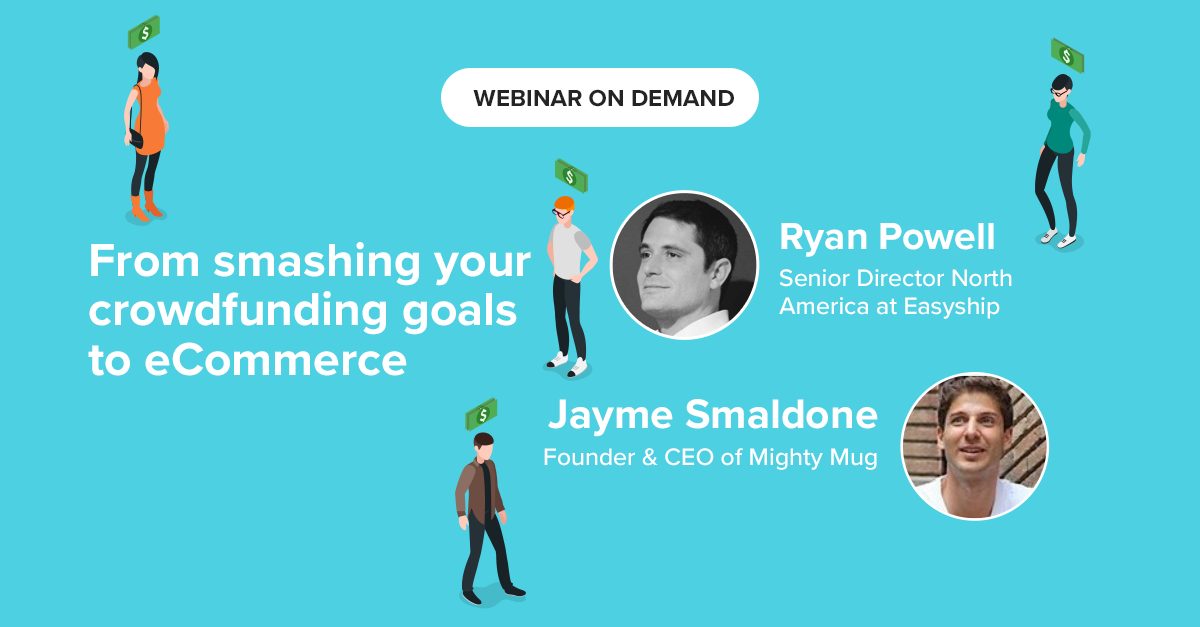 Red Points has teamed up with Mighty Mug and Easyship to deliver a webinar aimed at helping young companies take the next step in their growth.
Webinar highlights
Transitioning from crowdfunding to setting up a proper, long-term business.
Working with global demand for an original product.
How small businesses can offer the shipping price and speed of an enterprise.
Dealing with the Amazonification of modern product delivery.
Crowdfunding can be the spark that gets innovative ideas off the ground and into the market. But there are potential hazards and difficulties ahead. This Red Points shipping and crowdfunding webinar, joined by guests from Mighty Mug and Easyship, prepares post-crowdfunding brands for the threat of counterfeiting and dilemmas from shipping issues.
Counterfeits from crowdfunding
This can be a perilous phase of a company's life. Once crowdfunding campaigns have wrapped up, brands should see a huge lift to their profile.
The boost in PR and brand recognition can be enormous. Word of fantastic a new product on the market can spread, and a brand story that people empathize with will garner a lot of respect and a great number of brand evangelists.
Furthermore, these ventures can validate early ideas. Inventors come up with brilliant ideas for products, but it's hard to know if it's what people really want, or if they're actually willing to buy it. Crowdfunding can prove to creators that their ideas are worth investing in, and can give them the encouragement needed to commit to this new undertaking.
However, the news of a young, profitable product tends to reach counterfeiters. This is perhaps the biggest fear in crowdfunding. Fake versions of your product can hit online listings faster than the inventor can even start manufacturing the authentic ones - at a hugely discounted price. All that research and development can be for nothing, and the profits can make their way into the hands of swindlers.


Shipping headaches
An inventor has a genius idea. They spend months designing, creating, and perfecting it. But there's a whole host of issues that stem from simply getting the item from their hands to the consumers.
Amazon has gotten people accustomed to having their products arrive at their doorstep reliably, within days, and often at zero cost. Just how can a young brand compete with this service, or even offer something in the same ballpark?
What do you price shipping at for countries half a world away?
How long will the package take to arrive at the customer?
Should you offer to ship everywhere, or keep it to places for which you know you can reliably fulfill orders?
These are all questions that talented inventors and entrepreneurs likely never even considered as issues when they were creating their exciting new products.
All of these difficulties and more are discussed in the webinar. Just click the banner at the bottom of the page and listen along on demand.


The speakers
Red Points is thrilled to have two engaging speakers for this webinar about crowdfunding and shipping for new and small brands. We're joined by Jayme Smaldone of Mighty Mug and Ryan Powell of Easyship, each offering an authoritative voice, personal insights and valuable advice to listeners.


Jayme Smaldone, founder and CEO of Mighty Mug

After a spilled mug ruined an important computer, Jayme decided to create a new type of mug: one that would stand up to falling down and ruining your day (or pants). He came up with the idea of Mighty Mug, powered by their patented Smartgrip. Currently, their team numbers more than 15 people, with distribution in over 30 countries. Their goal remains the same: to save you from nasty spills.
Ryan Powell, Senior Director North America at Easyship

Ryan works at Easyship, the all-in-one shipping platform for global ecommerce, streamlining logistics from checkout to delivery. Easyship offers more than 100+ shipping services from major couriers such as DHL, FedEx, USPS, and UPS, at prices discounted up to 70%. For each order, its technology compares all shipping couriers and gives transparency to the buyer on delivery time and shipping costs.