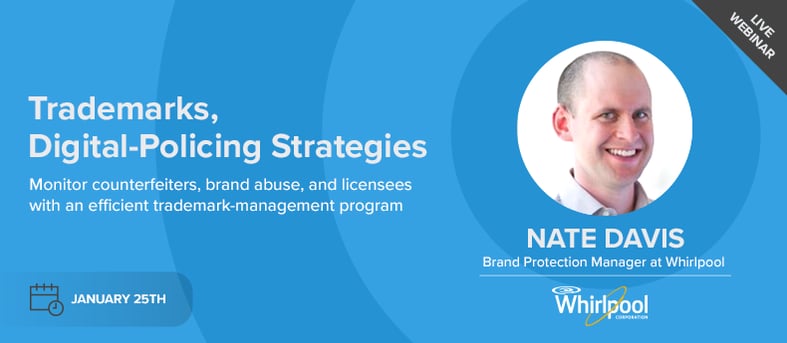 As counterfeiters techniques grow ever more sophisticated, so must IP policing strategies. Red Points, Whirlpool and IP Watchdog will explain why and how to protect IP online.
Red Points have teamed up with IP Watchdog to create a professional discussion and debate around the best tactics brand protection professionals can employ today to ensure fast and effective IP infringement removal.
In 2018 the key to effective trademark control is speed. IP problems are much easier to solve when they're detected and resolved quickly.
Together, Red Points, IP Watchdog and brand protection manager Nate Davis will produce a webinar on how to plan, execute and report efficient trademark policing program.
In essence, policing trademarks is comprised of two elements: guarding against infringements and making sure those who lawfully are using your trademarks are meeting the requirements and not damaging the brand.
Without a comprehensive trademark policing regime in place, which continually checks quality and authorised users, the trademark can become significantly damaged.


Guest speakers
Nate Davids is the Brand Protection Manager at Whirlpool Corporation, which is the number one major appliance manufacturer in the world, with approximately $21 billion in annual sales, 93,000 employees and 70 manufacturing and technology research centers in 2016. The company markets Whirlpool, KitchenAid, Maytag, Consul, Brastemp, Amana, Bauknecht, Jenn-Air, Indesit and other major brand names in nearly every country throughout the world.
Gene Quinn is a patent attorney and a leading commentator on patent law and innovation policy. Mr. Quinn is the Founder and Editor of IPWatchdog.com, which he started in 1999. IPWatchdog.com has been recognized multiple times by the American Bar Association as a top 100 legal blog.
The webinar will detail the steps required to build such a system and the requirements of staff and resources, and the brand protection technology that is out there. These top-level professionals will discuss the importance of both prevention and control and give real-world examples from their own experiences.
Naturally, the webinar will take the form of a discussion and we encourage registrant to ask questions and provide their own accounts of success or mishaps in the world of trademark control.