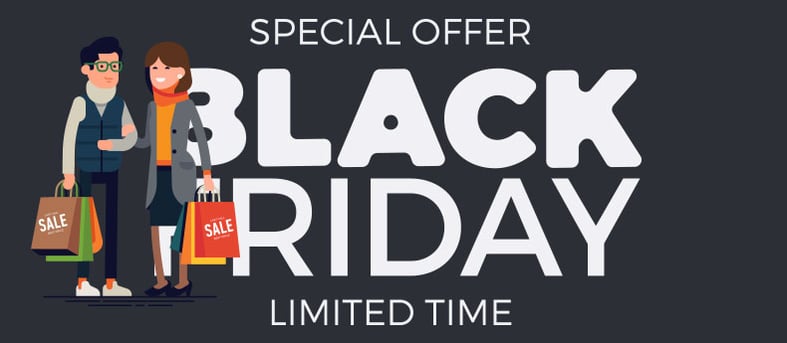 Counterfeits masquerading as discount deals on ecommerce sites continue to trouble shoppers and businesses.
Black Friday continues to expand rapidly on ecommerce

Parents overestimated their ability to identify fakes sold online

Fake toys put children's lives in jeopardy
Black Friday growing year on year
The American tradition has taken the world by storm. Now everyone, in Europe and beyond looks to get great deals in the run-up to Christmas. Last year, Black Friday smashed expectations, generating $16.7bn in sales, up from $12.8bn in 2016. Though this is still not at the same level as Alibaba's singles' day, in which Chinese shoppers spent $30.8 billion in 2018, beating 2017's total of $25 billion by 4 pm.
With such a frenzy of spending and a plethora of deals and discounts offered, this is the prime moment for counterfeiters to offer their products and adopt strategies that can evade brand protection strategies.


Fake toys sneaking into online marketplaces
Amazon has continued to strengthen their anti-counterfeiting policy; however, fake items keep infiltrating their site and fooling customers. Electronics are especially problematic during Black Friday - they've been identified as the number one product bought during the holiday sales in recent research from Red Points. Anyone who takes a look at Huaqiengbei in Shenzhen, China, will understand counterfeiters' capacity to create vast amounts of electronics - and why it's been dubbed the "Silicon Valley of Hardware".
The big scandal from last year's Black Friday was surrounding the popular children's toy "Fingerlings". The small robotic monkey, that sits on a child's finger and can react to sound and movement, is again one of the hot sellers this year and demand has been high throughout the run-up to the holiday season. These toys are able to respond to the child's actions with sounds, lights, and movements of their own. These original toys were in short supply on Amazon and counterfeiters looked to capitalize on this. Other popular toys for 2018 include L.O.L. Surprise!, Pomsies, Crate Creatures Surprise and classics such as Barbie and Lego.
Although, counterfeit versions of high-demand items is not a new issue, what makes this case significant is how successful the counterfeits have been. Fake versions of the toys had been sitting on the Amazon top seller list for over two weeks. USA Today reports that many customers are finding it difficult to obtain refunds.
Products like children's toys are especially damaging when counterfeited due to the real dangers they pose to consumers. Many of these counterfeit toys contain phthalates and other dangerous chemicals, which can put a child's health in serious jeopardy if the toddler puts it in its mouth.


Parents can't identify fake products online
Red Points conducted a market research on fake toys and parents buying habits. Parents were asked how confident they felt about their ability to identify fake children's products online, 23% stated they were not confident they could do so. Parents were then shown images of both real and fake-toy listings side by side and the asked the same question again. The second time, 61% of parents stated they were not confident in their ability to spot a fake item, demonstrating that most parents are unaware of the reality of how convincing counterfeit listings online can be.
The same report states how shoppers are unable to identify the items as fakes online. It isn't until they receive the item and can see it is poor quality or doesn't work that they are able to realize that the item isn't genuine.
"I can't give this to my grandkid," says Amy Stepp, who paid $17 on Amazon for what she thought was a real Fingerlings toy, talking to USA Today.


How to avoid fakes
In order to avoid fake items, Red Points' brand protection specialists would advise consumers to use these measures:
Reviews are not gospel; they are easily manipulated. Look at the bad ones and the level of detail they give compared to the positive ones. If there is an imbalance, this should be a warning sign.

Price, if it's too good to be true, it probably is.
Sending location, although not always clear, if the item is coming from China directly this should be a warning sign as most sellers on Amazon.com/.co.uk stock nationally.
Images mean very little, especially on Amazon as it is a catalog system. Do not put too much weight on the photos used as many counterfeits just use the images of the real product.
Red Points offers more tips on spotting fake products here.
To stay safe this Black Friday, research the seller or company. Find out where they are based and for how long their account has been active It can be almost impossible to tell the difference between real and fake items online sometimes, and it is just a risk of online shopping. However, if you have researched your seller sufficiently, you are as well prepared as possible to avoid a counterfeit.