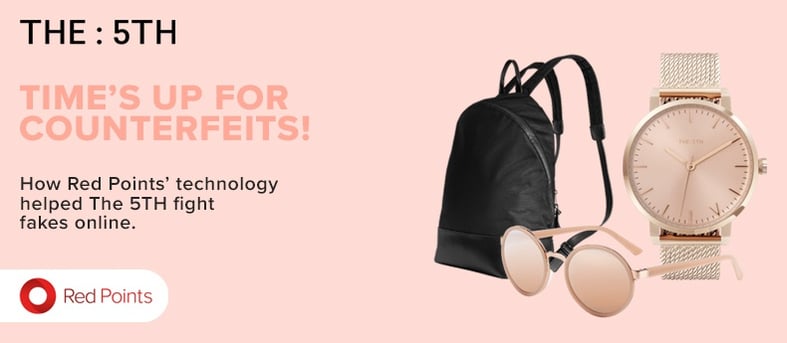 After initially being plagued by fakes on social media, designer watch brand, the 5TH, used Red Points' technology and watched their counterfeit problem disappear.

The 5th's success story
The idea for the 5TH began as phone call between two friends, one based in Melbourne, the other in New York. It all began with the intention to bring together creatives in a collaborative sense, using the one thing that every person shares, loses, invests and needs: time.
The watches combine elegant designs with functionality. These pieces serve to remind us of our most valuable resource, and to always use it well. The 5TH releases new designs every month, each sold in limited quantities, meaning this design is unique to the date of its release. The business began to grow rapidly, partly due to its impressive social media marketing and presence.
"Social media helped us grow as a business, especially in the early days" explains Jess Dorward, Brand Manager.
Their success soon followed counterfeits
However, this popularity caught the attention of counterfeiters. As is common with up-and-coming brands or those that are trending on social media, counterfeiters see an opportunity to hijack their success. There is a number of potential reasons why young brands are so susceptible to counterfeiting, one being that they are a new entry to the market, and customers have not built up a sufficient level of knowledge about their products and selling channels to be able to differentiate fake offers from genuine products. Staff members began to notice social media posts with images of watches that used their logo and name but clearly were not their own.

"We first noticed counterfeits on our social media feed, people were posting images of watches that were not our but had our branding on it" explains Gerry Sison, Marketing Coordinator
Fortunately, The 5TH were contacted by Red Points, whose technology automates the process of finding and eliminating fake products from the internet. At first, the 5TH believed the solution was too good to be true, as they had been dedicating countless hours of staff time to dealing with the problem, to little avail. However, Red Points' brand protection was able to eliminate 3,000 illegal listings, saving the company an estimated $600,000.
Conclusion
Red Points have also worked with other companies in the sector, such as fellow watchmakers, MVMT. Through the technology's continuous machine-learning facilities, it is able to tailor its search and detection capabilities to be extremely effective with whichever brand Red Points protects. MVMT's experience with counterfeits is another testament to the benefits that can be had when counterfeits are dealt with properly.