The most difficult part of creating a successful book is arguably the marketing. There are over 1 million books published every year in the U.S. alone; relying on just the quality of your work is a risky strategy at best. We've got a little guide on how to best use your original content to drive future sales.Unless you are already a best selling author, a global or European book tour might be a little out of your reach. Finding bookstores and venues in sufficient number will be a big enough challenge. So the traditional method of book readings, signings is still an option but as an author or publisher, maximising your social media presence will pay large dividends when it comes to books sales. In a perfect world, people would come to you and buy your book long before any marketing activities start. Luckily there's a few ways you can make this dream a little closer to reality. Before you even put pen to paper, or finger to keyboard, there's an opportunity to plant that seed and to allow people to follow you (the author) on the creative process, slowly buying into you and your work. However before you dive into an Instagram frenzy there are a couple of things to consider.
Step One: Know Thyself
People will be much more likely to buy your book if they have already bought into you. If you have a clear persona online then your marketing will become more efficient, your followers more dedicated and messaging clearer. This section comes from Kimberley Grabas's excellent article on the subject. So to generate this persona or fine-tune it you should ask yourself some questions, the answers to which will become essentially your rationale for existing online (offline you are free to exist without these questions). Consider the following:
What am I doing?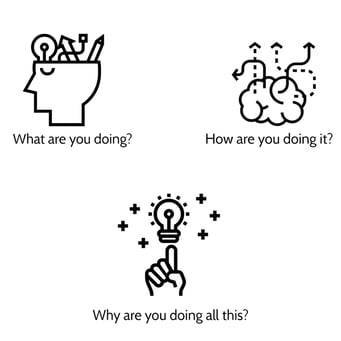 How am I doing it?
Why am I doing all this?

The first two should be pretty easy to do: "I'm making a travel/design book", "I'm doing this by sticking to a daily word count and working around my existing job" or "by travelling Asia" etc. The third is the key to generating your online community, the why? If you can provide a philosophy that underpins all of your actions you will have a clear drive for your community. This allows you to think about what you want to achieve and why; arguably the foundation from which all ideas, writing and marketing are built. If you are a publisher, sit down with your author and nail these questions. Watch Simon Sinek's Ted Talk in how leaders inspire action, where he explains the importance of this type of thinking.
This will differentiate you from your competitors. This point is not thinking about maximising appeal (that comes later) - once you've got your core values/philosophy then those that believe in your community will spread, and not only are they more likely to buy your work but also more likely to be huge supporters and advocates, leading to further organic growth.
Step Two: Construct buyer personas
This is the first piece of jargon known to marketers and it's definitely not the last you will encounter in the publishing world. Knowing customers sounds basic but should not be undervalued. You should start by picking about 3-5 example buyers that you think represent the people who will read the book or engage with you online. These should be detailed descriptions of job, income, living conditions, hobbies and importantly where they go online for information. One of the easiest ways to get this information is to simply ask an example buyer persona. If this is not possible, try to imagine these customers and put yourself in their place to answer some questions. If you're an author we guess this will not be difficult!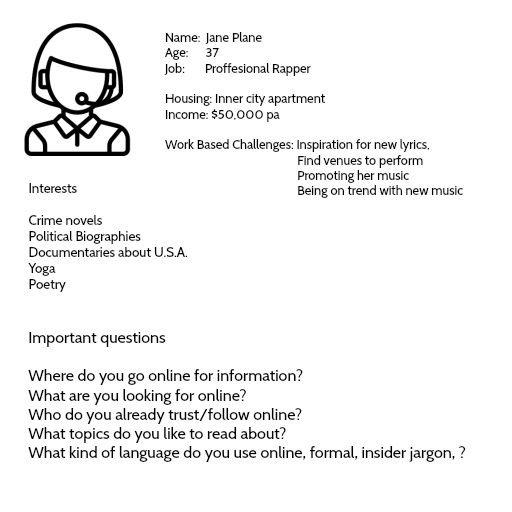 The goal is to get the correct people to your website or blog, by providing the content they look for. It's not a contradiction that you must write content that is true to your "why" but also to maximise success every single piece of content should be aimed at your users; the two should match up nicely. Try and find out what these people are searching for online, for entertainment or problem solving. Then you've got your long-tail key words: basically what terms and phrases they will be searching online. Reproducing these will maximise your position on Google and drive traffic to your website/blog/Twitter/Instagram whatever. Remember that the mediums you choose should be based on your buyers' hangouts so maybe if you are publishing a book about 19th Century Spanish architecture, perhaps Snapchat and instagram are not a top concern as these tend to be used by younger people and there is less likelihood you will find your niche. Use tools like Google Insights, Analytics or Alexa to analyse sites, to give you an idea of who uses different sources.
Step Three: Content = Community
As you are working with or are a writer, high-quality content is something attainable. As we said, your focus of output is based on your readership but you will need a base platform regardless. A website and blog is a must for the modern writer, and everything else depends on you and your fans.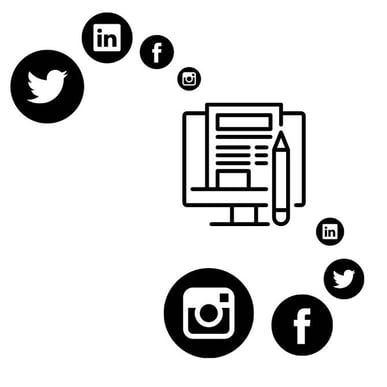 For websites there is a host of companies that will let you build a website using a simple drag-and-drop format for free, or others that will cost you a maybe $5 a month, a worthwhile investment. There is a full list of different options and comparisons here. If you want to go for a free blog option there are great sites such as WordPress, Medium and Blogger.
A blog is going to be both a source and a summary of social media content. You should have two key types of content: 35% should be posts solely about you, the life of a writer and the creative process, and 65% should be general interest posts. Make sure the personal posts weekly really stays true to the "Why" we spoke about earlier. The other content portion should stem from this, but be more generic based on your followers' interests and searches. These could be articles about writing process, like "does coffee help you think?" or anything that is true to your online character but also would be of interest to your community. Have a look at blogger sidekick for great tips on content and traffic generation techniques
If you are deciding between topics use Google Trends to see what key words are popular, and you can try and put a twist on your content to fit. Other tools like Buzzsumo let you search for what content and bloggers performs well for a topic. Use tools like SEO monitor to see if there is high search volume for your customers' keywords or if it's going to be really competitive to score high on google with this phase. If you want to get into the nitty gritty of Search Engine marketing then check out Hubspot's great guide.
Your articles will give you things to share through social media: you can share the same article a few times using different images or extracts from it, but don't be too repetitive or you could bore your audience. Alternatively if your article is a summary of your writing experiences over the past few days then use your Twitter updates and Instagram photos to tell the story of your week.
Some general things to keep in mind: Images are king, every second (at least) social media post should really contain an image regardless of its medium, and if you happen to be traveling then photos and thoughts and quotes are always great content.
Frequency of posting is up to you, and will surely depend on your schedule - but on social media a good rule of thumb is a minimum of one post every two days. Remember your social media is about community, add others in like-minded spaces, cite people in your blog, and tag people in tweets and posts. Try and build yourself into online groups.
If you want a little help expanding your social media reach, try and use Commun it to help grow your Facebook or Twitter community. Create things that are worth sharing. If your content is neither informative nor entertaining (preferably both) then don't post it. As Sum 41 famously said of social media, All Killer and No Filler.
Step Four: Social Media Promotion
During pre-publishing you should utilise your community - as well as promotion they may have some pretty good ideas. Here's just a few ideas to generate some shares and talk around your book.
Request cover ideas. Generate a buzz about the final stage of your story, tell your community to submit photos, drawings or written ideas for the cover, make sure to respond to these and be quick to delete any trolling.

A simple idea is to make a hashtag or a set phrase you attach to every book related post, it's important not to oversell on your channel but trackable items should still be applied to see exactly what's resonating with your audience, and encourage followers to share.

Host a vote for a visit. If you are planning a tour, allow for voting or open suggestions for locations. Some of your community will be well-connected or have great suggestions which you can use to engage them in the process, but you also might get a great venue out of it.

Offer the first chapter, or a segment for free. Simply make a downloadable PDF, make sure you request a tweet or a share in exchange for this. You can easily add a retweet button to a PDF: Here's how.

Be active on your social media account, responding to comments, following users and checking out other content.

Try and get the experts involved. Reach out to thought leaders in your area, academics or respected professionals and ask them to do a live video chat or a review. Be prepared for a lot of waiting and a few rejections - maybe best to start on this one early.
Step Five: Influencers.
Why influencers? They have an established community of and audience who engage with them regularly. They are also trusted more than traditional forms of marketing, and you can get some of their credibility by extension. People tend to sift through the waves of marketing and content and go straight to their trusted sources. Finally influencers, whilst in your sphere of interest will have different ways of communicating their interests, this gives you another voice/creative method of promoting your book.
Your Influencer types will be: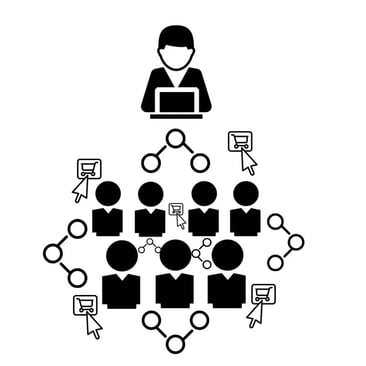 Bloggers
Industry Experts
Academics/Thought Leaders
Complementary Book Authors
Customers
Both experts and your followers are influencers but there will be other who maybe have smaller following numbers but have a loyal following. These can be both paid for and unpaid.
Create an influencer wish list
Start Googling, and see who comes top of the search results when you've put in a key word from one of your buyer personas. Start small - aim for 5-10, then document and prioritise these guys. Search blogging and social media sites as well as asking other people in your industry (including your followers) for tips on good sources of info. You can also use sites like; Little Bird, Rank Sider or Insight Pool. Create a spreadsheet like the one provided by Content Marketing Institute who have lots of handy tips.

Pick those bloggers, YouTubers or twitter gurus that best match up with your audience. Numbers are great but accuracy is more important, to ensure these people produce the kind of content that you and your audience want to read.
Contacting an influencer
Before making first contact share their articles and give them lots of love (online) for a few weeks, mention them in posts and provide well thought-out comments on their website or blog. It may be prudent not to lay this on too thick lest they find out that you're trying to woo them.
When making the connection try using LinkedIn or another social media platform and be honest about why you want to create this connection; if it's really a compatible influencer your original content and shared values will resonate. If you don't hear back, go for an email and a follow-up call. Remember to be friendly and polite: even with small-time influencers it is important to bear in mind that the internet is well-connected and a reputation can be quickly sullied.
Plan, Do, Analyse, Repeat
Set out a clear brief, send your influencers links to your content and give them an idea of what you want to achieve; be very clear on this. Keep up the support for their work, so that the relationship is mutually beneficial. When you send the book off for review or promotion, share this with your audience. Also provide something personalised for the influencer, such as a letter or email detailing what you want this book to achieve and why you believe this (that why again), to give your influencer a bit more insight before the review. If you are seeking promotion then it's important to allow your influencers to work with your content in their own way; you have the opportunity to use their creativity. You can do this through sponsored content, co-written pieces or just by asking them to share your content.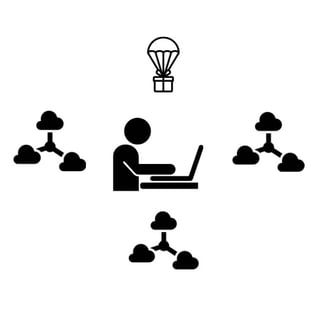 If you are looking to compensate your influencers then this is something you should establish early on: always state clearly if you are looking for a free service based on mutual benefits or a paid-for review or promotion. Consider reach, ranking of their site/blog and brand fit and audience engagement (check interaction levels) and adapt your offer accordingly for each influencer.
If you budget is small then you are best going for a long-term approach - suggest to your influencer that this could be ongoing and as your community grows you will be sure to share their material.
Make sure you analyse the success of each influencer, you can then re-allocate money or time where it is most effective. Look at shares, likes, website traffic sources, referrals, views. If you have time and resources you can even insert tracking codes into sponsored content. Check community opinions via comments or even ask your community in a survey/direct message how they got to your blog and if they like what your influencers are producing.
This is a rough guide and there will be lots of options that don't apply to you, and many more that you discover as you go. Don't be afraid to ask for advice from established bloggers or experiment for different tactics.