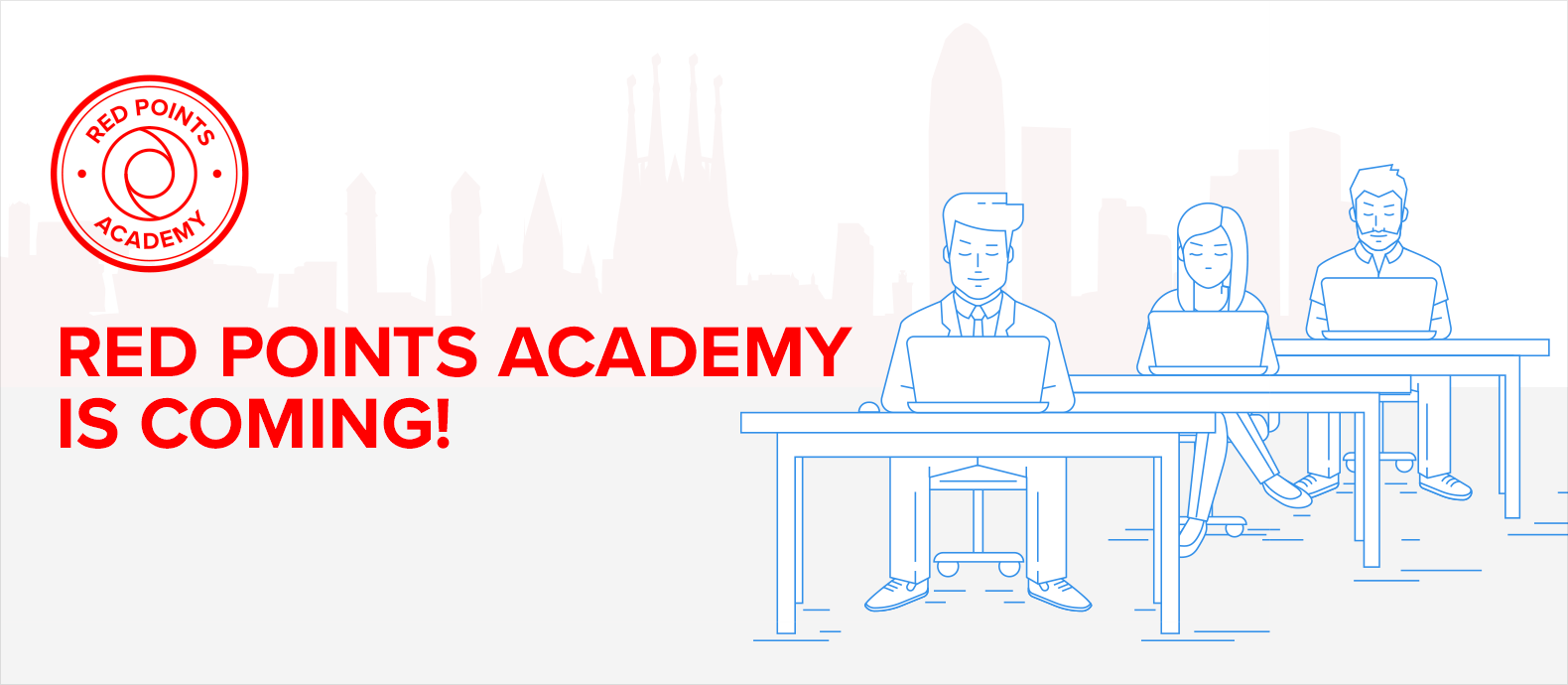 Red Points is hosting the release of its online IP learning resource, Red Points Academy, in a live-streamed event.
The Academy launch will take place on the 25th of April, on the eve of World Intellectual Property Day. It will be hosted by Dan Harris, founder of Harris Bricken and The China Law Blog, mentioned by the ABA Journal in its perennial favourite list of the top 100 legal blogs on the internet, the Blawg 100 Hall of Fame. Also speaking will be Kevin Nugent, VP of Customer Success at IPfolio, the leading intellectual property management software, Laura Urquizu, CEO at Red Points and Sofía Guzman, project manager & creator of Red Points Academy.
Dan Harris (left), Kevin Nugent and Laura Urquizu.
The release will be hosted at Red Points' headquarters in Barcelona. Journalists and those wishing to attend may register with Conrado Lamas at clamas@redpoints.com.
Red Points Academy - The Basics
Red Points Academy covers a wide range of important knowledge, from industry fundamentals to protection strategies to automated brand protection and other critical areas of IP enforcement. It contains 12 classes over 6 modules, featuring videos, presentations, downloadable study guides and quizzes, culminating with a final test at the end of the course. Participants who pass this final test will receive an official Red Points certification of Brand Protection, demonstrating their knowledge of current IP enforcement practices.
The Academy is being offered completely for free, and you can access the first video now, before even registering for the course.
The course is aimed at intellectual property (IP) professionals, both those experienced in the industry and those who want to stay up to date with changes within the industry, and also for people entering this industry, to provide them with a solid foundation in IP enforcement processes.
The goal is to help people within the IP industry to stay informed. The current climate of IP infringements changes very quickly, so to be able to operate as effectively as possible, professionals have to constantly update their knowledge.

The need for online brand protection
Dan Harris, founder of the law firm Harris Bricken, sees counterfeits as "...spreading like a virus, especially online. It is essential for anyone who works with intellectual property to know the latest trends in brand protection and to stay ahead of the IP infringers." Counterfeits are incredibly pervasive across online marketplaces like Amazon, eBay and AliExpress, and have been emboldened by improving global connectivity.
This is a problem which especially hurts smaller brands and independent designers, who work without the backing of legal teams, but who are equally targeted by counterfeiters. Laura Urquizu, CEO at Red Points, explains, "It's not a problem exclusive to big brands anymore. Businesses on the internet are becoming more and more niche-oriented, giving an opportunity to smaller companies to prospect and grow in this environment. However, counterfeiters keep an eye on those success stories too."
IP infringements are of course a huge problem for the fashion industry, as counterfeiters manufacture knock-offs in huge volumes. It is also a nightmare for the publishing industry since pirated works are direct competitors to the original sources, as well as a huge range of other industries.
So companies of all sizes, across many industries and all around the globe are at risk of counterfeiting and other forms of IP abuse. The Red Points team understand how traditional methods of fighting counterfeiting fail in today's world, and for that reason, they are eager to help brands and IP professionals worldwide stay updated.
What is Red Points?
Red Points is the only brand protection solution based on machine-learning technology. The Red Points' solution combines IP expertise with cutting-edge technology to automate the task of fighting online IP infringements.Using a combination of image recognition, keyword analysis, and natural language technologies, Red Points' platform is able cover hundreds of online marketplaces and networks for cases of trademark or copyright violations. Using removal software, expert analysts Red Points are able to remove incidents quickly and efficiently, with a technology that learns from each infringement, moving closer to a 100% automated service with every case.