Leicester shirt sales have skyrocketed in wake of their recent premier league victory. Leicester City Football Club have experienced a complete Cinderella story this year, beating second place Arsenal by 10 points. At the start of the season betting agents gave odds of 5000/1 on Leicester winning the title (some lucky fans have won big this year).
So when to everyone's surprise they stormed to victory, their supply chain was not prepared for the rapid surge in demand. Naturally, as this fairy-tale sports story has circulated around the world so has the sales of their shirts. Puma, who have supplied the Leicester kit since 2012 have not been able to keep up with this. In an article for reuters.com; the CEO of Puma, Bjoern Gulden stated that sports fans love underdog stories and they estimated that there has been a fifteen-fold increase in requests for Leicester Kit. According to totalsportek.com, Leicester City sold over 350,000 shirts this season. That's the 12th highest in the world and 5th in the UK this year, they are only ranked below wellestablished clubs such as Atletico Madrid and AC Milan. The Leicester Mercury reported that the club and suppliers ran dry of kit as early as March and that fans were left disappointed, unable to spend money on the club. This begs the question: where did people turn to? A quick look on twitter and it's clear that counterfeits became quickly available.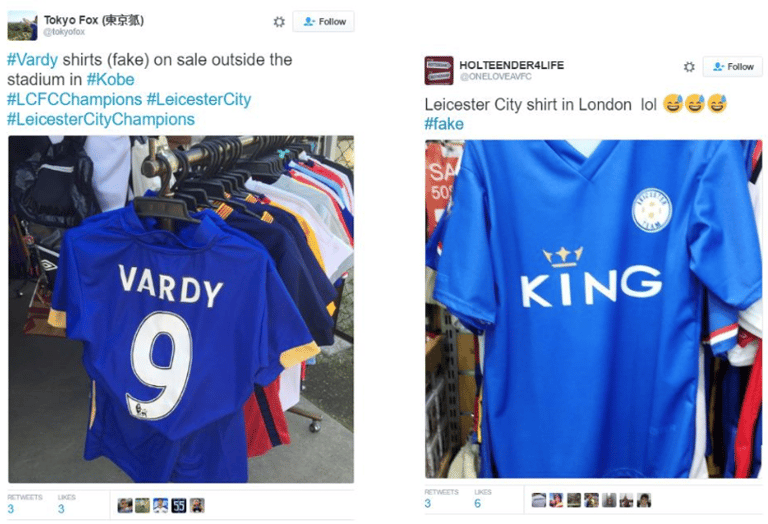 This unexpected sporting success created a 1500% increase in demand for shirt sales across the globe which almost certainly led to an increase in the number of fake shirts on the market. According to reports released last year; the UK's e-commerce market is the largest in Europe with over £60 billion in sales - even a small slice of that market is worth millions to clubs and businesses. Although it's difficult to calculate the potential loss in revenue, for a relatively small club such as Leicester it is not insignificant.

To put that into a relatable context; fake shirts on average sell at around 30% of the retail price, a fan may be presented with the decision of paying £12 for a fake or £45 for the real product. A combination of a shortage of real products and the fact that fans are just a few google searches away from websites that can send fake shirts directly to their home, there is no doubt that fakes were and are still being bought.

While the club's success far outweighs the drawbacks, it's important to note that ongoing counterfeits damage more than just revenue and can have much deeper effects on businesses. For example, a club like Leicester not mitigating fake shirt sales can devalue the brand, reducing what they can negotiate from sponsors. This loss of trust effects investors, reputation and ultimately the money available for players. It appears that Leicester may have failed to prepare for their own success and If Leicester wish to control what happens on the pitch it's important they control what happens to online as well.