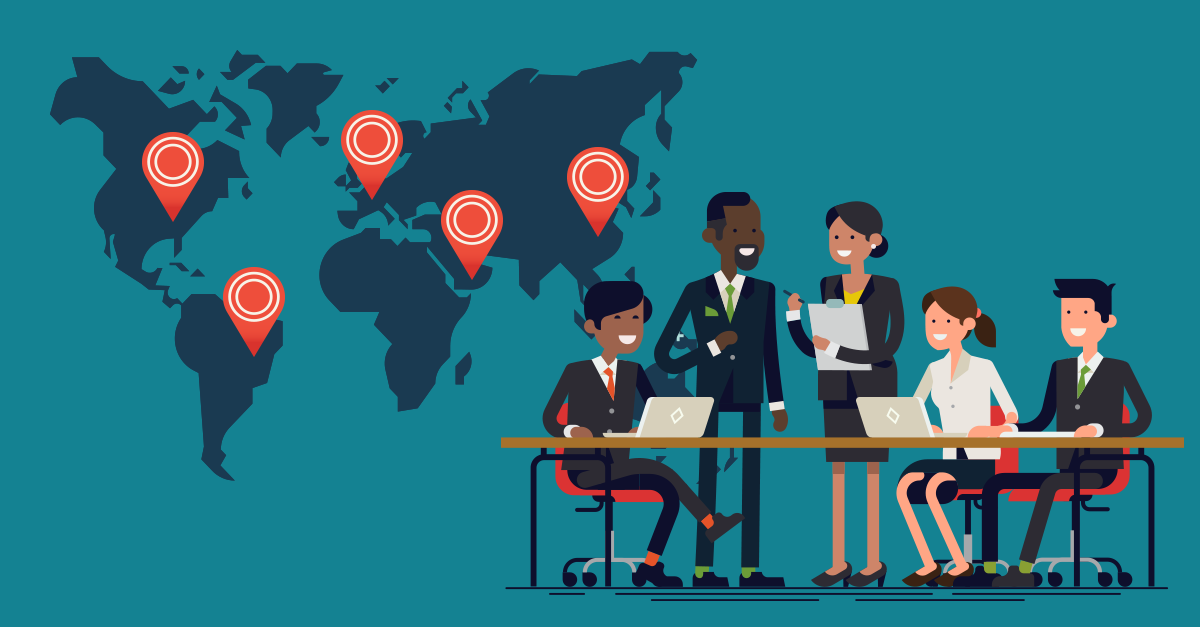 The following list includes a number of intellectual property offices around the world. Each item has information on the intellectual property office address, email, and phone number. For an exhaustive list of patent and trademark offices, check out the World Intellectual Property Organization's directory.
For any effective brand protection strategy, it's vital for companies to know how to get in touch with their local intellectual property offices - even those that are still beginners. For this reason, Red Points has created the list below.
North America
United States

US Patent and Trademark Office
Website: www.uspto.gov
Email: usptoinfo@uspto.gov
The USPTO recommends you use one of the following subject lines to speed up email correspondence:
Patents
Trademarks
Products and Services
Electronic Business Support
Phone numbers:
Toll-Free: 800-786-9199
Local: 571-272-1000
TTY: 800-877-8339
Don't miss out on Red Points' overview and guide to American trademark registration .

United States Patent and Trademark Office locations
Virginia Headquarters:
USPTO Madison Building
600 Dulany Street
Alexandria, VA 22314
Texas:
USPTO Texas Regional Office
207 South Houston St., Suite 159
Dallas, Texas 75202
Phone: 469-295-9000
Email: TexasRegionalOffice@uspto.gov
Colorado:
USPTO Rocky Mountain Regional Office
1961 Stout Street, 14th floor
Denver, CO 80294
Phone: 303-297-4600
Email: rockymountain@uspto.gov
Michigan:
USPTO Midwest Regional Office
300 River Place Drive, Suite 2900
Detroit, MI 48207
Phone: 313-446-4800
Email: MidwestRegion@uspto.gov
California:
Silicon Valley USPTO
26 S. Fourth Street
San Jose, CA 95113
Phone: 408-918-9900
Email: SiliconValley@USPTO.GOV
United States Copyright Office
U.S. Copyright Office
101 Independence Ave. S.E.
Washington, D.C. 20559-6000
Phone: (202) 707–3000 or 1 (877) 476–0778 (toll free)
Red Points also provides an easy-to-follow guide to Copyright, including registration and an overview of protections, fair use and DMCA.
Mexico

Mexico trademark office
Mexican Institute of Industrial Property
Website: https://www.gob.mx/impi/
Email: buzon@impi.gob.mx, dp@impi.gob.mx
Phone numbers:
(52 55) 56 24 04 01 / 04
(52 55) 53 34 07 00
(52 55) 56 24 04 06 - Telefax
Address:
Periférico Sur No. 3106
Piso 9, Col. Jardines del Pedregal
Mexico, D.F., C.P. 01900
Canada


Canadian Intellectual Property Office
Website: http://www.ic.gc.ca/eic/site/cipointernet-internetopic.nsf/eng/Home
Email: ic.contact-contact.ic@canada.ca
Phone numbers:
Telephone (toll-free in Canada and the United States): 1-866-997-1936
International calls only: 1-819-934-0544
Fax: 819-953-2476 or 819-953-6742
TTY (for hearing-impaired): 1-866-694-8389
Business hours: 8:30 a.m. to 4:30 p.m. (Eastern Time)
Address:
Canadian Intellectual Property Office
Place du Portage I
50 Victoria Street, Room C-114
Gatineau, Quebec K1A 0C9 (Courier: J8X 3X1)
South America
Brazil

Brazil Trademark Office
The National Institute of Industrial Property (INPI)
Website: http://www.inpi.gov.br/english
An online contact form is available at this link: http://faleconosco.inpi.gov.br/faleconosco/
Phone number: (21) 3037-3000
Rio De Janeiro Headquarters:
Rua Mayrink Veiga, 9 - Centro - RJ - CEP: 20090-910
Praça Mauá, 7 - Centro - RJ - CEP: 20081-240
Mailing address:
Rua Mayrink Veiga, nº 9 - 22º andar - Centro - Rio de Janeiro / RJ - CEP: 20090-910
Eleven district addresses with emails are available at the link below:
http://www.inpi.gov.br/Portal/sobre/enderecos-e-telefones-1
Chile

Instituto Nacional de Propiedad Industrial (INAPI)
Website: https://www.inapi.cl/
Email: inapi@inapi.cl
Phone: (56 2) 2 887 0400
Address:
Av. Libertador Bernardo O'higgins 194, 1st floor, Santiago, Chile


Argentina

National Institute of Industrial Property (INPI)
Website: http://www.inpi.gob.ar/
Email: infopatentes@inpi.gob.ar
Phone: 0-800-222-4674, (54 11) 4344 4902
Address:
Paseo Colón 717
C.P. 1063 Buenos Aires
Europe

The European Union Intellectual Trademark Office
Website: https://euipo.europa.eu/ohimportal/en/home
Email: information@euipo.europa.eu
Phone: 34 965 139 100
Address:
Avenida de Europa, 4
03008 Alicante, Spain
Germany

German Patent and Trademark Office (DPMA)
Website: https://www.dpma.de
Email: info@dpma.de
Phone: (49 89) 21 95 0 (Munich)
Mailing address:
80297 Munich
Location:
Zweibrückenstraße 12
80331 Munich
Netherlands

Bureau of Intellectual Property Sint Maarten
Web site: http://www.bip.sx/
E-mail: info@bip.sx
Phone: (1721) 543 35 00
Address:
Professional Office Park
Osprey Drive #4
Building 2, Unit 2A
Philipsburg, Sint Maarten
Bureau of Intellectual Property Aruba
Website: http://www.opi-aruba.org/
E-mail address: opi@aruba.gov.aw
Phone: (297) 583 1200
Address:
1 Laclé Blvd. No. 3
Oranjestad
Aruba
Netherlands Patent Office
Web site: http://www.rvo.nl/octrooien
Email: nloctrooicentrum@agentschapnl.nl
Phone: (31 88) 042 42 42
Address:
Prinses Beatrixlaan 2
2595 AL Den Haag
Mailing address:
P.O. Box 10366
2501 HJ Den Haag
France


National Institute of Industrial Property (INPI)
Web site: http://www.inpi.fr
Email: contact@inpi.fr
Phone: (00 33) 171 087 163
Mailing Address:
15 rue des Minimes
CS 50001
92677 Courbevoie Cedex
Italy
Italian Patent and Trademark Office
Web site: http://www.uibm.gov.it
Email: contactcenteruibm@mise.gov.it
Phone: (39) 06 4705 5800
Address:
19, via Molise
00187 Roma


United Kingdom


Intellectual Property Office
Web site: http://www.ipo.gov.uk
Email: information@ipo.gov.uk
Phone: 030 0300 2000, +44 (0) 1633 814000 (outside the UK)
Address:
Concept House
Cardiff Road
Newport
South Wales NP10 8QQ


Belgium


Belgium Intellectual Property Office (OPRI)
Web site: https://economie.fgov.be/fr/themes/propriete-intellectuelle
Email: address piie.contact@economie.fgov.be
Phone: (00 32) 2 277 9011
Address:
SPF Economie
OPRI - DG de la Réglementation économique
City Atrium
Rue du Progrès, 50
1210 Bruxelles
Spain
Spanish Patent and Trademark Office
Web site: http://www.oepm.es
Email: informacion@oepm.es
Phone: (34) 902 15 75 30
Address:
Paseo de la Castellana 75
28046 Madrid


Asia
China
China Intellectual Property Agent Office
China National Intellectual Property Administration
Web site: http://english.cnipa.gov.cn/
Email: sipo@sipo.gov.cn
Phone: (86 10) 62 08 31 14
Address:
6, Xitucheng Lu
Jimenqiao Haidian District
100088 Beijing
Japan
Japan Patent Office
Web site: https://www.jpo.go.jp/e/index.html
Email: PA1A31@jpo.go.jp
Phone: (81 3) 3580 9827 (Int. Affairs)
Address:
3-4-3 Kasumigaseki
Chiyoda-ku
Tokyo 100-8915
India


Indian Trademark Office
Office of the Controller-General of Patents, Designs, and Trademarks
Web site: http://www.ipindia.nic.in
Email: mumbai-patent@nic.in
Phone: (91 22) 241 32735
Address:
Bhoudhik Sampada Bhavan
S.M. Road, Antop Hill
Mumbai-400037
Africa
South Africa
South Africa Intellectual Property Office
Companies and Intellectual Property Commission (CIPC)
Web site: http://www.cipc.co.za/
Mr. Lehong, Patents and Designs—Email: tlehong@cipc.co.za Phone: (27 12) 394 1298
Ms. Lotheringen, IP Enforcement—Email: alotheringen@cipc.co.za Phone: (27 12) 394 1512
More contact links are located at South Africa's WIPO page
Physical Address:
Block F
The DTI Campus
77 Meintjies Street
Sunnyside
Pretoria
Mailing Address:
Private Bag X400
Pretoria 0001
Egypt


Trademarks and Industrial Designs Office
Web site: http://www.itda.gov.eg/
Email: info@Itda.gov.eg
Phone: (202) 267 20 452
Address:
4 Nasr Road cross Makram Ebeid
Nasr City – Cairo
Egypt
Oceania
Australian trademark office
IP Australia
Web site: http://www.ipaustralia.gov.au
Email: international@ipaustralia.gov.au
Phone: (612) 6283 2002 (Director General), (612) 6283 2999
Mailing address:
PO Box 200
Woden ACT, 2606
Street address:
47 Bowes Street
Woden ACT, 2606