Marketers are always trying to diversify and develop strategies that attract customers in new and exciting ways. Here we look at the rationale for focusing on Instagram and a few industry examples that really nailed their messaging and delivery.
Instagram can be seen as both the first and last level of interaction with a movie: from a customer initially seeing a post in pre-production, to following the channel and providing a community for fans after the movie's release.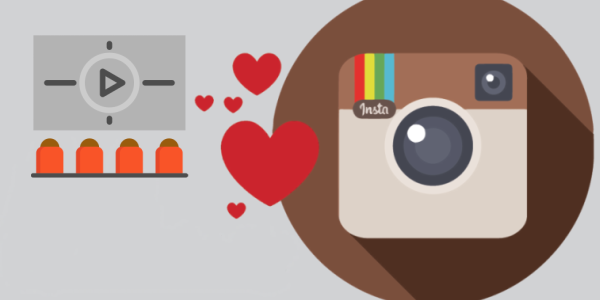 Instagram has grown from 90 million active users in 2013 to more than 500 million active users in 2016. This places Instagram well ahead of Snapchat on 200+ million users and Twitter on 310 million users. Instagram users post over 95 million images per day, which result in over 4.2 billion engagements or interactions. 26% of all online adults use Instagram, the majority of them are aged 18-30.
Researchers have found that Instagram is seen an escape and adhere to the "tell don't sell" philosophy. Normally no piece of social media is an island, so if Instagram is something you want to utilize keep in mind that it should be coupled with support from other platforms as well.
So can Instagram really be used to promote content?
There are already a number of case studies that would seem to support the use of Instagram. TV Land wanted to promote their new show "Teachers" to younger audiences and their channel in general. After running a successful Instagram campaign TV Land reported a 21% increase in brand awareness. Another example is the UK-based Channel 4, who reached over 750,000 18-34 year olds with their Instagram campaign aimed at raising awareness about their new show "Gogglebox". Movies have also been able to cash in on the youth and image based power of Instagram. Some here we commend on their content, and others on their engagement. Whether it's paid-for or organic growth, Instagram is a must in social media marketing.
A movie starring Adam Sandler heavily aimed at younger audiences. While the movie may have come under fire from critics it performed reasonably well at the box office and in DVD sales. In an effort to push DVD sales the Pixels movie utilized their strong presence on Instagram and paid for further influencers to promote their content. One post by a video games vlogger racked up over 37,000 likes for the movie. This helped generate discussion about the film long after the release date.
A movie with a devout teen and millennial following, the Instagram had to be a hit. Sharing designs from the show, interviews and tailoring movie scenes to fit appropriate national and international days. Their Instagram account boasts 1.4 million followers. What they did well:
Behind the scenes shots
Promotional interviews
Designs, sketches and extra material
Let's switch to look at small-scale films that really nailed their content. Given the size and media spread of the movie, it has done surprisingly well. This independent film from New Zealand, has 8,830 followers and has shared some very good quality content - the follower numbers are sure to grow as the film grows in popularity. If we compare the film to other small budget successes such as "Sing Street" which only gained ,6140 followers or "The Witch" which has been critically acclaimed this year but only managed to garner 7,665 followers. It's a small fish in the grand scheme of things but what they did well:
Shared different types of content
Sources images and painting form fans
Both director and actors feature reguarly
This film really played to its strengths when it came to Instagram. Using a combination of competitions, quotes and scenery that features in the film, it tapped into the lifestyle area of Instagram. What it did well:
Quotes: the account created lots of creatively-designed inspirational quotes which are hugely popular on Instagram and very shareable.
Dramatic scenery: the film itself features lots of amazing landscape around the world and the Instagram was able to use these stunning locations to great effect.
Competitions: running competitions is a great way to generate buzz and build follower numbers quickly.
This movie really used its character and voice to great effect over social media. Admittedly this might not be an option for every film marketer but Zoolander took its social media to the next level. Playing on the personality of the character, the Instagram account was filled with stupid quotes, modelling shoots and celebrity friends. Obviously the 1 million followers reached was in part due to huge marketing budget and the regular access to celebrities who have their own devout followers but also the movie capitalized on the industry it was satirizing and really focused on using partnerships. Also the movie did some basics well:
On trend: the film used everything from election hashtags to news headlines to remain topical.
True to the brand: the Instagram account never goes off voice of its protagonist Derek Zoolander.
Used partners: whether it was news agencies, celebrities or magazines, Zoolander really pulled on the combined strength of the fashion industry.
Check List
So to summarize some of the best practices on Instagram below is a checklist of things to consider. We've provided some links as each of these is an area if study in itself and is a key part of any strategy.
1. Define your personality
With Instagram marketing, like every good bit of social media marketing, having a clear voice and online personality will help your users engage with you and help you create a dynamic network of fans and followers. It's about finding your niche and voice, here is a more detailed guide on using instagram and building your brand.
2. Start sharing long before release.
Provide behind the scenes photos and shots, try and capture the fun of the set. This can be done during production and promotion and gives users the inside content they seek. This will build on the excitement of the film and allow you to share the film maker's experience.
3. Change up the content
Try different styles of images, from sketches of costumer design, to cartoons from storyboards (nothing to revealing). It doesn't always have to be scene based or character based. Try interactive or even educational based images (how to's). Use the new Instagram stories feature to generate longer views (more or less the same format as snapchat) here's how.
4. Reply to comments and create a conversation
If you have loyal fans try and reply or comment on their comments. You want to appear more like the voice of the movie than simply a transmitting medium. Make sure you respond quick, too long and you lose the chance of a conversation.
5. Get on trend
Whether its throwback Thursday or that dress, put your own spin on trends and drive people to your content. You can look at Google trends or Instagram's own analytics for this. Try and be quick on it, you don't want to be hashtagging "on fleek" in September 2016.
6. Influencers and Partners
Call in favours, tag complementary accounts and if possible use influencers. If they are famous all the better if not look for those that are popular with you audience and approach them with an offer of exclusive content, or reimbursement. This is a hugely powerful tool and one that requires research and planning but can work to huge effect, check out why.
7. Quotes and Inspiration
Hugely popular on Instagram, either quotes from the actors or producers or even simply ones that tie into the theme of your movie. There is a good guide on how to use text for impact on canvas. But more than the technical side, people go on Instagram for inspiration, it's your job to tap into that.
8. Competitions
A great way to generate followers quickly, the prize will depend on budget but make sure that the challenge and the prize are fitting to you movie and voice. Social Media Examiner have good guide on how to run an instagram competition.
9. Experiment and Analyse
Do not be afraid to try new footage or a mobile upload, carefully track what form of post not only gets the most likes or follows but reaches the right people. It's always important to vary your content but don't be afraid to use more successful type repeatedly. There are a number of free analytics tools at your disposal.
10. Link it up
Instagram will only let you place one link on your profile. So make sure your link on your profile is relevant, if you have a pre-order available on itunes or amazon use it. Ensure if you are promoting a certain aspect, perhaps it's a feature in a magazine that this link corresponds. It's the most valuable bit of real estate on your profile make sure you use it to great effect.
The challenges facing DVD and box office sales are huge, mainly from online piracy but a good social media presence will help generate a relationship and make audiences want to own your content. If you're interested read our report on "The Hateful Eight" and the damage caused by its leak pre-release. Remember that Instagram is not about sales but community and sharing content, do not sell to people where they do not want to be sold. Creating the correct balance of content will permit your fans to share your product for you.