In a previous report published by the OECD and EUIPO, it was estimated that around 2.5% of global imports involve fake goods. As this issue persists in 2017, we review counterfeiters' favorite products and brands.

Everyday thousands of branded goods are sold to happy customers who are willing to pay the price in exchange of quality and reliability. Brands are globally known and distributed, but in a world where the line between authentic and fake is thin, imitation can be seen practically everywhere
Fake products are found in almost every industry, everything from clothes to auto parts, children's toys and even drugs and alcohol are prone to being falsified. Although China and Hong Kong are known to be the main source of these items, accounting for over 80% of the seized products, counterfeits also come from other emerging economies like Turkey, Singapore and India. The unfortunate mix between their production infrastructures and lack of enforcement institutions make this kind of illegal businesses easier to develop.
With profits being counterfeiters' main motivation, the list includes a variety of well known industries and their top brands. In terms of products, footwear comes out as the most counterfeited item with Nike being the most popular brand among counterfeiters. This comes as no surprise, considering the biggest manufacturer of athletic shoes reported their 2016 global revenues to be over $30 billion. Other famous brands like UGG and Adidas appear to be severely affected as well.
The first half of the list features clothing, leather goods, electrical machinery and watches and brands like The North Face, Ray-Ban, Louis Vuitton and Rolex stand as the most falsified within their industries.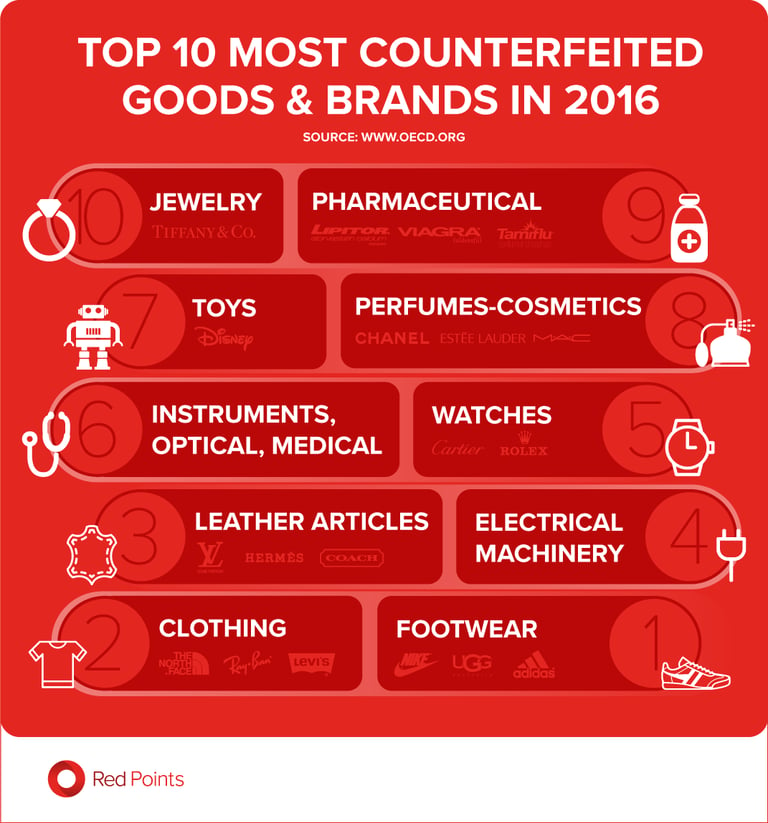 Counterfeits not only costs millions of dollars and jobs to industries, but they also pose a threat to consumers who, in some cases, don't even know they're buying fake products. By taking advantage of the fidelity people show towards brands, counterfeiters put profit over safety and sell potentially dangerous items.