Despite Amazon Video, Netflix and Hulu making a dent in the piracy market, this month Google received a mind numbing 500,000,000 takedown requests This neared the total number for all of last year, until then the all-time record. If this trend continues we will see Google break the 1 billion mark by December. But why is piracy booming, when it's never been easier to access on-demand media? Some are pointing the finger at the ease of sharing illegal content through social media and how systems have been slow to react to the problem.
Pirated Films and TV shows used to be the preserve of the tech savvy, but it's becoming increasingly simple even for tech amateurs to access, download or stream anything from Game of Thrones to quirky low-budget indie films online.
Links to pirated content on social media
Social media has become one of the key places to gain access to pirated content. Unlike our previous article about Telegram; where messaging groups share the actual files, on social media such as Facebook and Twitter, links are shared to either streaming sites or sites where the content is hosted. The content is so varied it's easy to confuse movie fan pages with pages devoted to pirating the content.
It's now common practice to use social media to find links to the content or advice on how to get that content. Enter into the Facebook search bar the title of a film and it will quickly be populated by pages and groups that offer links to the movie. A basic search shows that over 83,000 people are looking to stream or download this film via Facebook.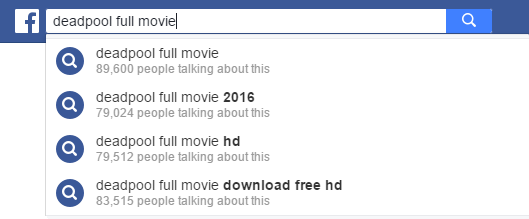 It's worth noting that not all of the results produced are likely illegal; some direct to fan pages or links not accessible without a membership. That said, a large number take the user straight to sites that will stream the film in high-quality. Like with messaging app Telegram that's been used for piracy: it's the shareability or discoverability of piracy on social media that makes the practice so potent.
By no means is Facebook alone in this; Twitter also has accounts that appear to have been created for the sole purpose of sharing links; after typing the same search into twitter we quickly found several links to pirated versions of the movie.



Both Facebook and Twitter have anti-piracy systems in place in order to remove such links. These mostly depend on users flagging links as opposed to an automated tech algorithm. Twitter's policy much like Facebook's state clearly they will action takedown requests. Facebook also uses social signals to detect if a flagged link is likely to be infringing, meaning it will check the geographical location, how recently the profile was created and social connections to judge if the profile is suspicious. Facebook also insist that its users agree to respecting copyright laws in its user agreement. However, many in the media industry insist that Facebook and others are not doing enough to find and penalize those who share pirated content. The fact that relying on users to flag the links isn't working as an anti-piracy strategy is probably a clue as to the reason behind growing levels of piracy.
A deeper look into the causes
The culture of piracy has changed dramatically: downloading or streaming a film is now a socially acceptable crime especially within the younger generation, of whom studies have shown tend not to believe that their piracy affects the industry. Social media is generally public and people feel they can share and talk about pirating content in public. It's obvious there is a lack of awareness about the true cost of piracy for artists, creatives and industry professionals. (See: 9 reasons people give for pirating content)
The margin for profit in smaller independent films is much less than blockbusters given their limited marketing budget. Sadly Indie films are just as easy to find illegally. An example of this would be "Me, Earl and the Dying Girl", a critically acclaimed film that struggled to make a profit for production costs. Well-written and well-acted films like these rely heavily on their box office success to generate funding for similar films in the future. Changing the piracy culture will be a slow process of educating the population, at Red Points we offer a piracy monitoring service and aim to protect artists and creatives.