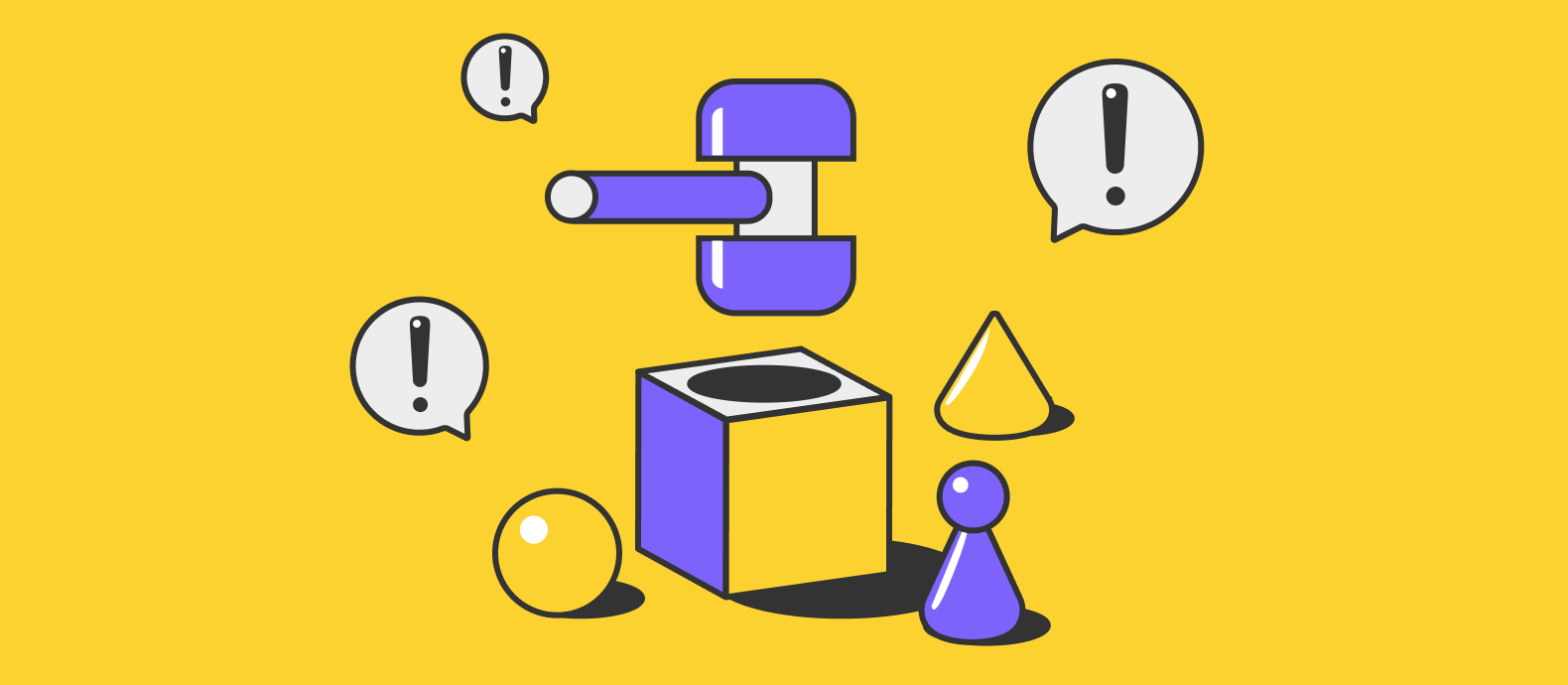 The counterfeit industry becomes all the more obscure when we consider how dangerous a counterfeit toy can be for a child at play. The damage that is done to young consumers can be irreversible.
In 2019, revenue generated from counterfeit toys reached $32.3 billion in the US and $44.6 billion in Europe. It is a thriving industry, stifling the efforts of recognized brands who strive to create ingenious toys and keep children safe.
Red Points carried out market research on the toys and games industry to better understand the consumer perspective and purchasing habits. This article outlines the most striking findings:
69% would consider buying toys and games online from an unknown seller
35% of participants said they would purchase a fake product for the right price
23% would stop buying from a brand if they found a fake
47% are concerned about fake toys and games in the market
The dangers of counterfeit toys remain unknown to most consumers
Counterfeiters are notorious for manufacturing goods that put consumers at risk. This is especially egregious when considering the idea of children coming into contact with fakes. The rules and regulations that hold authentic companies to a high standard of safety are completely ignored by counterfeiters.
The biggest red flag here are the toxic materials commonly found in counterfeit toys. Heavy materials such as lead and phthalates are putting young children in grave danger. Phthalates are known to cause irreversible damage to vital organs, as well as being directly linked to cancer, among many other risks. This is not common knowledge to consumers and it leads to inaccurate assumptions of how dangerous their choice may be when choosing to buy a fake for the right price.


48% of respondents said they would buy from a previously unknown seller if it were discounted.


Many unknown sellers online are in fact counterfeiters, despite appearing on legitimate search engines, social media platforms and online marketplaces. But, between the low barriers of entry to these websites and the ease of setting up convincingly accurate accounts, it can be extremely difficult for shoppers to know if what they see online will lead them to counterfeited products. Then, considering the huge discounts that the counterfeiters can offer, it's no wonder so many consumers are willing to buy from unknown sellers.


Counterfeit toys not only pose a toxicity risk to children, they also present a range of other grave safety risks
For toys with sound, the decibels are not regulated to meet health and safety standards, which can cause permanent hearing damage to young users.

Another factor in the health and safety standards for toys is the size of objects, and how well they are assembled so as to not end up in the mouths of young children. An example of this is stuffed teddy bears. Each element needs to meet strict standards, which are rarely met by counterfeiters. 54,000 teddy bears were seized before the Christmas holidays, that showed major health hazards to young children. The goods originated from China, with pieces such as the eyes posing a choking hazard.
Customs around the globe are doing their best to seize as many counterfeit goods as possible. But with dates such as Christmas flooding their ports with containers, it proves impossible to seize each and every counterfeit toy.
Consumers on ecommerce websites have so many options that it can become hard work sifting through the authentic from the plethora of counterfeit toys among the list. Fake reviews may now be common knowledge to most consumers, but making sure the seller is selling a genuine product is not yet as common. The safest option is to buy from the brand's own website. Unfortunately, that wasn't the most popular answer with our respondents:


15% of respondents said they would purchase the product directly from the brand's own website.


The dangers of counterfeit toys need to be continuously highlighted to consumers by concerned brands. Consumers need to be aware that a discount without a thorough background search of the product's provenance should not be considered at any cost.
The perceived quality of fake toys is misleading consumers
A concerningly high number of consumers admitted to having purchased a counterfeit in the past. Out of the one thousand participants that responded, 22% said they have purchased a counterfeit toy or game online in the past.
There doesn't seem to be any toys or games category that counterfeiters leave out. When asked about which type of product they had bought and believed to be fake, the results from respondents were homogenous;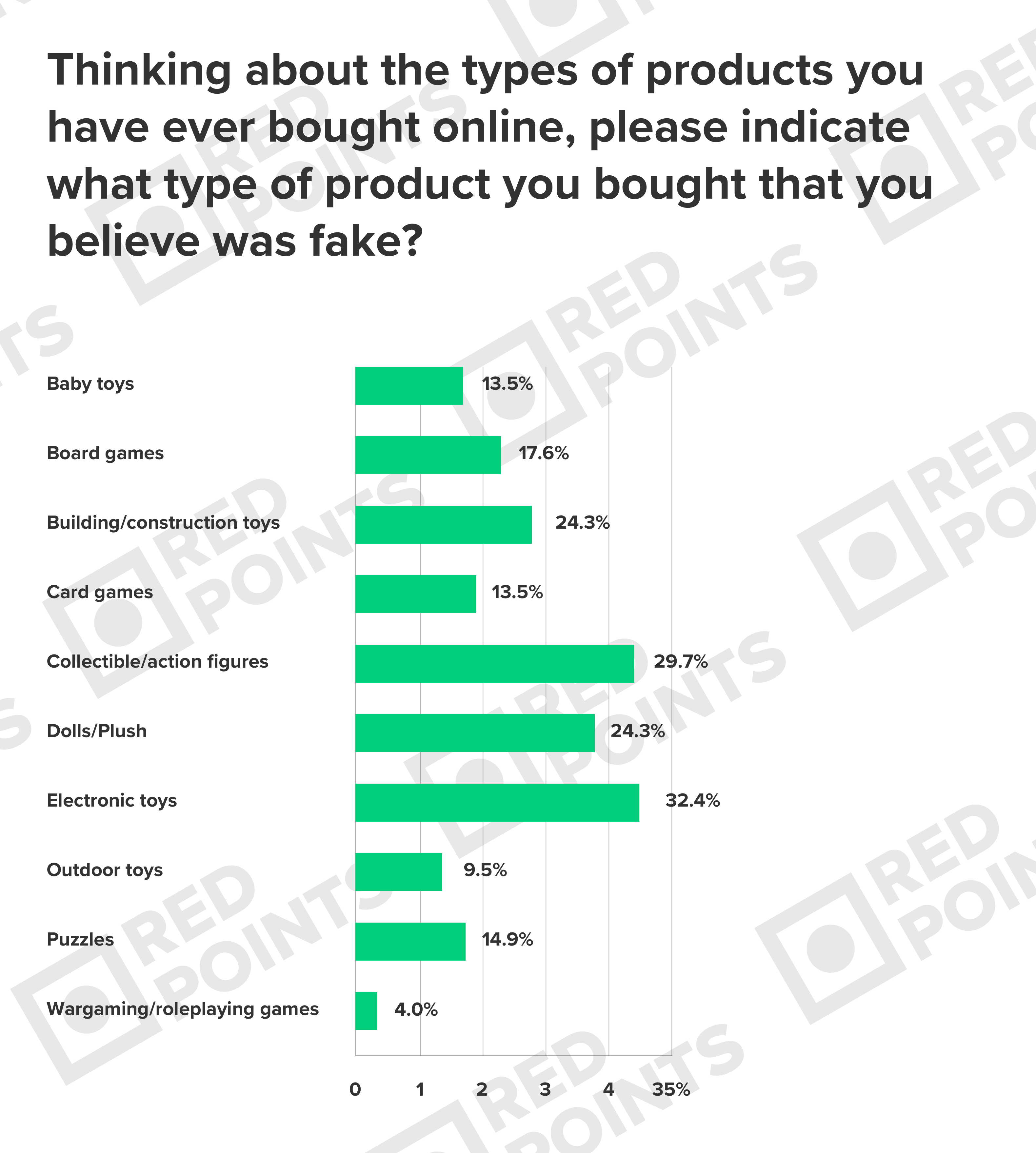 If we look at the most popular category, we can see that it is one of the most dangerous of all counterfeit toys: Electronic toys. As previously mentioned, counterfeiters have no regard for health and safety. Electronics are known to present a major risk, but to think that young children are exposed to the same risks is all the more alarming.
The risks of electrical toys can go as far as creating fires to electrocuting a young child. It may seem incomprehensible to many as to how these counterfeit electronic toys can be considered by consumers. The fact is that in appearance, they seem harmless and can even be perceived of good quality.
51% of respondents were satisfied with their counterfeit toy purchase.
Even more surprising: 24% said that the counterfeit toy exceeded their expectations. It may sit rather uncomfortably with many, but it proves that there isn't enough information to consumers about the dangers of giving a child a counterfeit toy.
The efforts of customs officials are greater as each year goes by, but so is the number of counterfeits sold online. American-owned marketplaces are trusted by a vast majority of consumers, but there are only so many regulations they can put in place to protect online shoppers.


Brands are losing value in the eyes of consumers as a result of their counterfeit copies
To consumers, seeing a brand's counterfeits on marketplaces are a warning sign. The confidence they previously may have felt in purchasing a product from the brand is lost. Brands may be perceived as lacking control over their online presence, which results in consumers worried that they may fall into the counterfeit trap.


43% of respondents would warn their friends about the brand if they bought the counterfeit version by mistake.

The sheer quantity of counterfeits on the most popular marketplaces is not easy for all to decipher, which leads to many consumers buying a counterfeit toy by mistake. For those that have felt that disappointment upon their package arriving, it can hit a bigger nerve than what other counterfeit products may provoke. It's a ruined birthday or one fewer present under the Christmas tree for their children.
Consumers don't want to take the risk of buying a counterfeit toy. Instead, they will opt for a different brand that seems to have little to no counterfeits online and feel more secure about their purchase.
1 in 4 participants said they would no longer purchase a brand's products if they found that the brand had counterfeits.
The finger points largely at the brands themselves, even if counterfeiters are hard to stop and have no direct link to the brand itself. The consumer seems to associate the responsibility of the dangerous counterfeit toy to the brand. They want a brand that is able to guarantee not only its own original products but to also guarantee that they won't mistakenly buy a counterfeit toy either.


40% of respondents think the original brands are responsible for taking counterfeit toys off online channels.
The negative impact on brands not addressing their counterfeit issue is clear, their brand image is put at risk and the negative publicity -although not directly related- of the damage these fake toys may do to young children can deeply damage a brand's image.


Conclusion
These products go to young innocent children who cannot identify the dangers of their new plaything until it's too late. The health and safety risks are uncomfortable knowledge to those that know. Brands dealing with grave issues of injuries from their brand's counterfeits are faced with worrying consumers boycotting the brand completely. Once this has occurred, regaining consumer trust is next to impossible.
Brands affected suffer a multitude of consequences. From losing their hard-earned reputation for innovation due to bad press and reluctant consumers, to suffering from a loss in sales to their unscrupulous counterfeiters.
The solution lies in making consumers more aware of the risks involved with their apparent "good quality" counterfeit toys. Brands must help consumers to identify which is fake and which is authentic.

And lastly, the most important solution lies in using technology specifically designed to search the net for counterfeits in order to rid online marketplaces of these dangerous goods, both for consumers and for brands themselves.