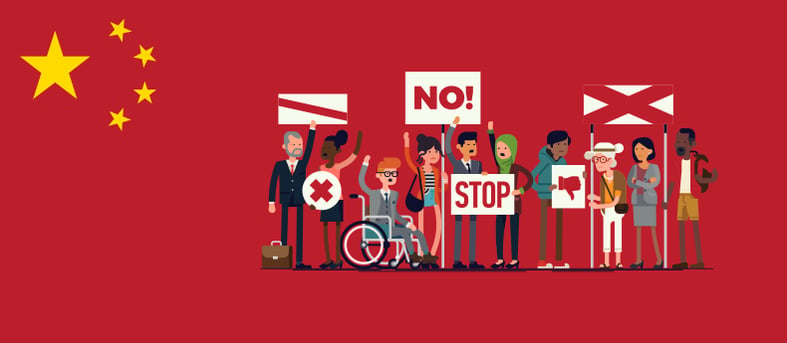 Chinese politicians and entrepreneurs assure of strong IP rights, but is it really in the interest of China to collapse the global counterfeit industry?
China is famous for its terracotta army, vibrant cities and world-renowned food. Unfortunately, it's also garnered a more unsavoury reputation for IP violation. Besides being a haven for fake designer goods, trademark squatting, fake food scandals and even whole fake Apple stores are IP-related issues common to the country.
But China is changing. Its economy has exploded in recent years, resulting in rapid wealth increases, vast global exports and a uniquely-dominating middle class. The change is globally significant as Chinese consumers are rapidly forming new habits, and for the first time, China has emerged as a hub for innovation.
The country is investing big time in domestic startups and R&D to pioneer technologies like 3D printing and AI, and is also making visible efforts to decrease its emissions, launching elevated buses that pass over traffic and state-of-the-art renewable energy plants. Mobile apps like Tencent's WeChat have monopolised consumerism in ways that Amazon can only dream of: the messaging app is an app for everything, allowing users to share articles, order meals, make mobile payments, send gifts to friends, hail taxis, buy goods and much more under one virtual roof. E-commerce giants like JD and Alibaba are pushing their limits, too, exploring drone delivery, self-driving lorries and blockchain technology to secure products and maximise efficiency.
But with such advances, the country is recognising a need to tighten its grip on IP protection. For one thing, securing foreign investment is reliant on strong IP rights, and President Trump has made it clear that IP is a key pain point in the China-US relationship.
A global problem
In August a US investigation into China's IP practices officially began, as directed by President Trump. The investigation potentially puts trade between the countries under threat, as the Trade Act technically allows the President to impose tariffs on foreign goods. Speaking at the White House, President Trump promised that "we will stand up to any country that unlawfully forces American companies to transfer their valuable technology as a condition of market access. We will combat the counterfeiting and piracy that destroys American jobs".
In his speech Trump recognises a crucial effect of globalisation and the internet-connected world; namely that China's IP problem is no longer contained to the country. According to the most recent OECD data, 84.5% of counterfeit goods originate in Hong Kong and China. As e-commerce continues to dominate China's retail sector, selling in both domestic and international markets, so the problem threatens legitimate trade around the world. Chinese companies are investing in IP protection practices, but there is some debate as to how effective these really are.
Chinese e-commerce giant Alibaba, currently racing Amazon towards a $500 billion valuation, has come under particular fire for lax IP enforcement. Despite putting together a dedicated IP team, Alibaba's Taobao saw it's counterfeit reputation continue as it was re-blacklisted as a US "notorious market" last December. When Alibaba successfully sued counterfeit pet food sellers earlier this year, one critic dismissed it as "a drop in the bucket". Another branded the e-commerce giant's efforts as superficial, saying that it was "a lot of window dressing".
The company has disputed the claims, pointing to the millions of listings it removes each year for IP infringement, but as counterfeit sellers find workarounds, Alibaba-owned sites still top the websites renowned for fake goods.
The 'chicken or egg' effect
Alibaba's continuing problems with counterfeits express CEO Jack Ma's shrewd acknowledgement of the sizable fake goods market. The richest man in China, Jack Ma was infamously quoted at an Alibaba event last year expressing a belief that "fake products today are of better quality and better price than the real names". This year at an event encouraging US business on Alibaba, Ma went for a markedly different tack, affirming that counterfeits are the "cancer" of Alibaba.
Ma's irregularity on the subject is likely due to a western failure to understand the culture that counterfeit goods have come to be part of in China. In the country, Shanzai, or the practise of copycatting branded goods to a 1:1 standard, has become set in the country's industrialist traditions. Shanzai has come to represent Chinese self-expression, in a country where domestic income cannot keep up with galloping consumerism, and western-manufactured products come with steep taxes.
Apart from the cultural aspect, China's economy is dependent on the continued production of counterfeits - and Ma, in accordance with political leadership, recognises this. A California Sunday article outlines the reality of counterfeits in China: specifically, the necessity of controlling the counterfeit industry without completely destroying it. Quoted in the article, Dan Harris of China Law Blog agrees, "If Xi (Jinping, Chinese President) could wave a magic wand and end counterfeiting without social disharmony, he would", but greater IP enforcement would cripple the infrastructure of many towns that largely trade in illegal goods.
In a catch-22, China's copycat habit is doubtlessly having a knock-on effect on innovation within the country, at least in non-tech industries where products can easily be replicated. It's likely that in fighting this problem, progress will be slow.
Outside of China, companies should take steps to defend against the problem's spread, by protecting their own products against counterfeiting. Once manufactured, products can make their way into the west through e-commerce sites such as Amazon, DHGate and Alibaba sites, but can also be found in brick-and-mortar stores where websites often sell in bulk quantities. To learn more about how brands can protect their products online, take a look at our free eBook: