From Loom Bands to Frozen figurines, sales of bootleg toys are stacking up faster than Lego bricks. Besides yielding horrifying character hybrids that should never have been possible, they also pose a major health risk to children. Regardless, counterfeit toys continue to sell successfully, surely prompting reaction within the industry.
We all surely remember the Sense of Right Alliance from our childhoods. Who could forget the time Batman and Superman teamed up with Spider-Man, a Power Ranger, Lightning McQueen from Cars and, of course, Shrek? The nostalgia is palpable.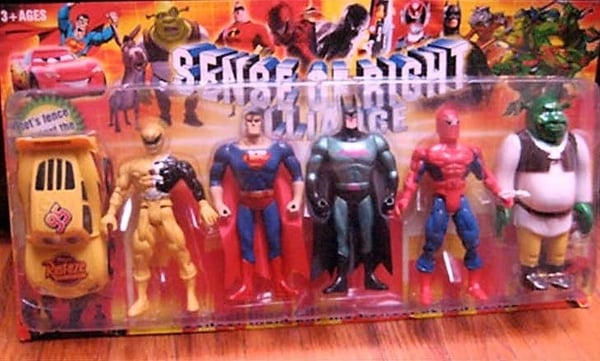 If the above super-team doesn't jog your memory, then it's possible that it's another case of absurd counterfeit products making their way to authentic markets. The counterfeit toy industry has not only committed the heinous crime of crossing Marvel and DC universes, but somewhat unnerving hybrid characters have also been cropping up, like Spongebob-faced Pikachu and a jacked Woody from "Space Boys 3".

Dangerous knock-off toys
It's easy to laugh at the ridiculous versions of cultural icons, reproduced terribly by counterfeiters, so much so that one may not think too much of the real harm being caused by these products. But, when the dangers that counterfeits pose to consumers are made clear, they stop being so funny. Many counterfeit toys have indeed been investigated and found unsafe, some with illegal levels of harmful chemicals and others have been found to contain excessive amounts of lead. Other toys, such as Lego bricks and Hatchimals have also been particularly counterfeited, and the lack of quality control procedures and safety regulations have raised concerns.
Another potential threat of counterfeit toys lies in the emerging trend for Wi-Fi-enabled toys. Mattel's Hello Barbie doll was infamously hacked as part of an experiment showing how the doll could be used to spy on users, and has created much concern regarding security within Internet of Things products. The interactive fashion doll is fully FTC- and kidSAFE-certified, suggesting that a counterfeited competitor product could pose even more of a security risk to our most vulnerable users.
Unfortunately for legitimate companies, a knock-on effect has meant that genuine brands have also been burned with the results from these investigations. Consumers are not always able to distinguish faulty products from genuine, with a study finding that under 4% of consumers on counterfeit sites actually intended to purchase a knockoff, so negative experiences likely to be directed toward the original brand.
While quality and user experience are important, safety issues are the most damaging to brands. The downfall of the Samsung Galaxy Note 7 proved that poor safety in the eyes of consumers, especially when based on previous experience, can inflict a level of damage to the brand image that will take years to repair.


Bootleg toys hurting brand reputations
Bootleg toys manufacturers are a significant threat to toy brands' revenues. Carefully-developed designs that have gone through rigorous product testing cannot hope to compete financially with counterfeited means of production that cost a fraction of the price. This in turn lowers the retail price of counterfeited goods, so profit margins can be significantly higher than those yielded by genuine products.
The rise of clone Lego brands reflects this, and the trend for Lego brand competitors to secure media affiliation licenses outside of Lego's domain is exemplary of a further way in which counterfeit or clone products can have a negative impact on market success: by filling a gap in the market that could have been filled by the official brand.
So which brands are being targeted? Findings show that €1.4bn of EU revenue is lost annually due to counterfeiting, and the growing figure suggests that counterfeiters are becoming increasingly responsive to market demand. The ability of bootleg toys manufacturers to roll-out products rapidly - thanks to exploitative production methods coupled with the opportunity to sidestep trading regulations - means that they can be concurrent with trends, as evidenced in the fast release of Rainbow Loom band knockoffs.
The blurred legality of counterfeit toys, particularly within the emerging Internet of Things territory, makes the bootleg toys and games industry difficult to tackle. Of course a product designed to mimic another has strong legal grounds of contention, and historically certain cases have been successful, but counterfeit products continue to spring up, dominating marketplace platforms such as Alibaba, where reportedly 67% of products sold on the company's Taobao site are counterfeit.
So what can be done in response to the rise of bootleg toys - or are toy manufacturers simply 'stuffed'? On a case-by-case basis, individuals can report spotted counterfeit products online, which will lead to their removal and - in certain cases - a ban of the seller in question. On a more commercial scale, however, manual searching is extremely time-consuming. Whilst there are ongoing efforts to curb sales of counterfeit goods, loopholes continue to be exploited and safety standards continue to go unmet. In order to be effective on a large scale, brand protection strategies must be applied systematically, and they must constantly be adapted to new means of counterfeiting goods.