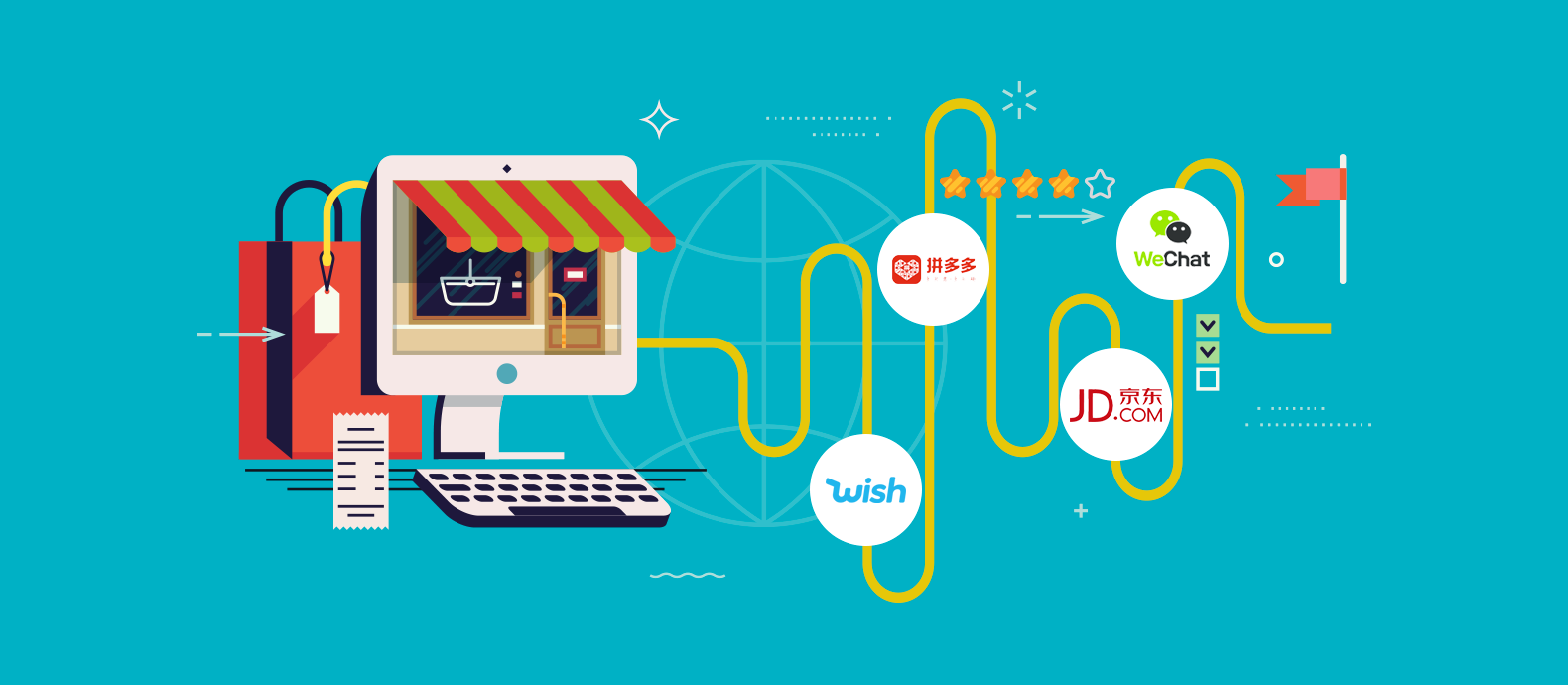 Red Points outlines 4 marketplaces to be included in current and future brand protection strategies.
Amazon, eBay and Alibaba are absolute titans in the world of ecommerce, having controlled the majority of the global market share for quite some time. Amazon controls nearly half of the entire US ecommerce market, while 25 million people use eBay to sell their products and Alibaba is quickly approaching 600 million annual active consumers.
But brands who wish to combat online counterfeiting need to be aware of current trends and by looking beyond biggest sites.
Wish.com
Wish.com is quickly becoming one of the go-to websites for consumers looking for rock-bottom prices for products.
Wish was originally founded in 2010 by Danny Zhang, formerly of Yahoo, and Peter Szulczewski of Google, as a service where users could create wishlists for products they were interested in. A decision to allow third-party sellers to post their products directly onto Wish turned out to be their secret to success.
The site focuses on offering the cheapest possible prices for products. A quick look over Wish brings up staggeringly low figures, like coats for $15, dresses for $20 and watches for $3. Wish also attracted vendors of unbranded products, by providing an easier sign-up service than other site of the time; a huge part of their ability to provide such low-cost products. Lastly, Wish.com fully embraced consumers' growing preference for mobile web surfing, providing a service that worked smoothly and elegantly on users' phones.
Seven rounds of funding since launch has brought in $1.3 billion to the company, and Wish has since exploded into an ecommerce giant of its own, currently sitting as the #1 ecommerce app in 42 countries. Wish.com is predicted to break $2BN in revenue this year. A captive audience of shoppers seeking low prices has resulted in counterfeiters using the site extensively. While Wish.com has brand protection tools in place, it would be prudent for those brands not already monitoring the site to begin to do so.
Pinduoduo
Pinduoduo (拼多多) has been lauded as the next Alibaba - yet barely seems to have appeared on the radar outside of China.
The site was launched in September 2015 by former Google engineer Colin Huang Zheng, and within its first year had received over $100M in investment. In under three years since its inception, Pinduoduo enjoyed a meteoric rise and has become the largest ecommerce site in China after Taobao.
Pinduoduo offer a huge range of products, from to gadgets to homeware, from groceries to clothing. This, however, is far from uncommon within Chinese ecommerce - sites like Alibaba and Taobao provide an even more extensive range of products to consumers. Similar to Wish.com, Pinduoduo has embraced lesser-known brands on their platform, which has proven ideal for consumers looking for affordability in their shopping.
The driving aspect of Pinduoduo's success has been their interactivity of consumers, combined with the group-buying system. Linked with WeChat, which we'll discuss below, Pinduoduo allows users to form groups where they can make higher volume purchases together. More than just offering cheap goods, Pinduoduo has allowed consumers to create economies of scale within their own social groups, and to enjoy bargains forged by themselves, and has found great success in its niche.
Pinduoduo's stock price hit a high of just over $30 this month, and continues to grow quickly and consistently. Much like other major online marketplaces, Pinduoduo will likely become a major site for brand protection practices in the coming months.
WeChat
WeChat (微信) has been a major app in the tech scene for years. It is often referred to as as the Chinese rival of WhatsApp, but to see it as such is to wildly underestimate the potential of the app. Released in 2011 by Chinese technology conglomerate Tencent, WeChat has now become an essential part of the company's expansive tech empire, and in 2014 it was labelled one of the world's most powerful apps by Forbes.
It currently boasts just over a billion active monthly users, putting it as the third-most popular mobile messaging app globally, after WhatsApp and Facebook Messenger.
What puts WeChat into this list with the other online marketplaces is its more recent expansion into areas of tech outside of just messaging, including (but far from limited to) a social feed, a search engine and most importantly, m-commerce.
WeChat allows third-party programs to be added to users' experience - in fact, more than half a million of these programs have appeared on the app - 875 of which have been removed for selling counterfeit products. Their approach has been to simplify the ecommerce process as much as possible. Anyone is allowed to open a store on their app - regardless of whether they have a Chinese bank account or trading license. And like with Pinduoduo, consumers are given the ability to make group purchases, allowing them to get better deals on everyday products.
WeChat Pay is another important key to their success - the app has a built-in payment system, allowing users to make purchases on ecommerce through the app, as well as to send and receive money between users. With its mammoth user base and growing ecommerce functions, WeChat is not an essential for brands looking to protect their IP in China and beyond.
JD.com
Jingdong (京东), more commonly known simply as JD.com, is hardly a new arrival to the world of ecommerce. The company, founded in 1998 as Jingdong Century Trading Co, first opened its B2C site in 2004 under the name JDLaser.com. Since rebranding the site as JD.com, it has now become the main rival to Alibaba within China.
The site's main edge over its competition is its focus on high-tech products, like phones, computers and other electronics. They have invested heavily in implementing modern technology for deliveries, including driverless delivery, a swarm of enormous delivery drones and robots capable of delivering packages.
To start 2018, JD also launched 7Fresh, their offline grocery store, tied in to the main site. Never missing an opportunity to integrate the most cutting-edge technology, 7Fresh even utilises robot shopping carts which follow shoppers around the store.
JD sits at just over 10% of the size of Alibaba - but has been catching up quickly over the past couple of years. While Alibaba has mostly existed as a platform for third parties to sell their products, JD has been expanding their physical distribution network across China.
This has been their strategy to displacing Alibaba - relying on the quality of their goods, and the reliability and speed of delivery, including to rural areas of China which are sometimes ignored, and controlling their entire distribution network.
Following CEO Richard Liu's arrest in September, JD's already-volatile stock price has taken a considerable hit over the past couple of months. However, their annual revenue is expected to continue to grow comfortably as time goes on.
Brand protection is an ever-changing game of cat and mouse between counterfeiters and brand protection professionals. This list is far from complete, each region, country and industry will have its own sites and newcomers to the scene. Comprehensive brand protection requires companies and professionals to constantly research changes and trends.