Early backer of Skype and Wix.com (WIX:NASDAQ) Mangrove Capital Partners invests in copyright infringement detection and removal company.
Red Points, a company that offers an efficient technology-driven solution to piracy and counterfeiting of digital content and brands online, has closed a €2 million funding round from leading early stage venture firm Mangrove Capital Partners, an early investor in Skype and Wix.com. The funding will be used to expand its offering to companies of all sizes as well as support growth into new markets including North America.
Red Points has developed a unique SaaS solution for copyright infringement detection and removal. Its proprietary technology continuously crawls the web for infringement of online assets covering download sites, P2P networks, forums, social networks, cyberlockers apps and e-commerce sites. It then documents and monitors each infringement before pursuing extrajudicial actions that mitigate the infringements – such as notification of infringement, communication with the relevant ISPs and de-indexing of the relevant web pages.
Red Points was founded by Josep Coll and shortly after its inception he incorporated David Casellas to the project as co-founder. In November 2014, Laura Urquizu joined the project as CEO. She led the company to an annual growth of 350% and initiated the company's first international sales. It currently deletes more than 52,000 incidents of illegal content every month for media companies, publishers and brands, with an efficiency rate of 98%.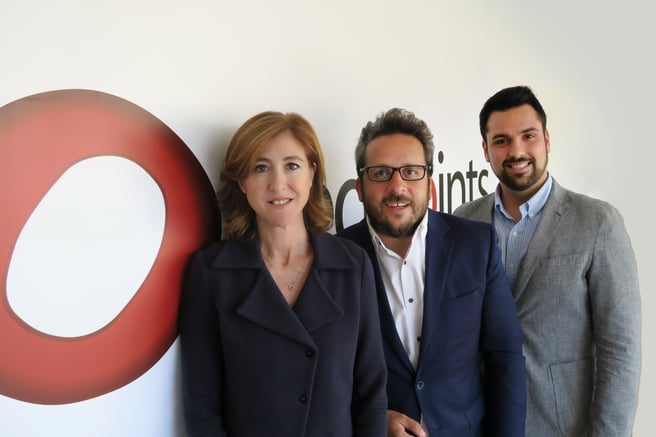 (from left to right : Laura Urquizu, Josep Coll, David Casellas)
Customers include major news organisations and international audio-visual groups, as well as renowned brands, sports entities, top-level athletes, film stars and famous music artists.
Red Points already sells its unique solution in various European countries and is now launching in the U.S. With this injection of capital Red Points will extend its solution to any type of business that suffers from counterfeiting online, protecting not only large brands but businesses of all sizes.
David Waroquier, partner at Mangrove Capital Partners stated: "Red Points has the potential to disrupt the way piracy and counterfeiting are being detected and resolved over the internet. The combination of a robust technology and an impressive team led by Laura Urquizu provides a highly efficient solution to manage what has become a huge and persistent pain for the industry globally. Red Points' client's successes to date and business acceleration demonstrate there is a massive opportunity to become the global leader in copyright infringement detection and removal."
Laura Urquizu, the CEO of Red Points, highlighted that the principal objective of the new investment will be to expand the company's global business operations. She stated: "Red Points is already a leader in the fight against piracy and counterfeiting online in Spain and, to achieve our goal of being the global leader, we couldn't ask for better partners than Mangrove."
Founder Josep Coll, stated that: "The arrival of Mangrove will help us complete our dream of creating the best anti-piracy team in the world."
About Mangrove Capital Partners
There are very few investors who have identified early, have helped build and have exited successful billion dollar companies. There are even fewer that have exited two. Mangrove Capital Partners is proud to be amongst them. Our team chases bold, transformational ideas around the world, with a combined focus on Europe, Israel and India. It works with top entrepreneurial talent at the earliest stages of innovation, and is typically the first institutional investor. It regularly invests prior to product launch, often in unproven, unusual or un-favoured technologies. Its team brings rich and diverse experience in industry as well as technology, with an entrepreneur-centric approach that ensures founders have the support, encouragement and experience they need to build disruptive, global companies.
With $750 million under management, Mangrove supports its portfolio through multiple rounds of financing and is the largest shareholder in many of its best performing companies. Founded in 2000, Mangrove has invested in more than 100 companies, including Skype, Wix, Brands4Friends, Freedompop, Walkme, Wallapop and Lesara.