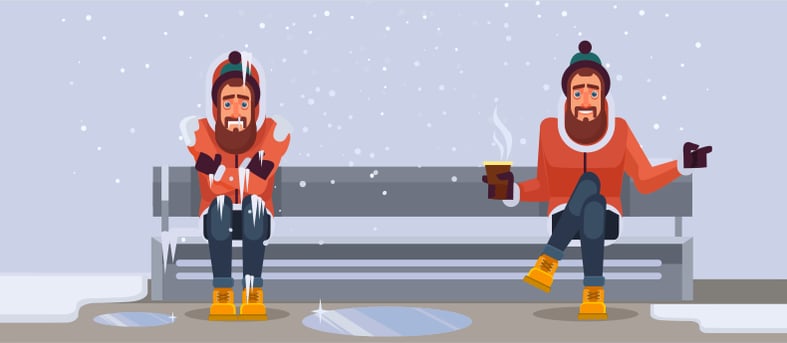 Red Points has researched outdoor apparel customers and their attitudes towards counterfeits.
Outdoor apparel brands' growth comes with threats
Outdoor apparel brands have been increasing in popularity, not only within their core market of users who participate in outdoor activities, but also consumers who purchase these items for their style and fashion benefits. As the industry experiences growth, both domestically and in China, it has struggled to deal with an influx of counterfeits.
Counterfeiters themselves have been adapting their tactics and have increased their activity on social media at a concerning rate. In the last 3 years, counterfeits have tripled on social media according to a Red Points' study.
Counterfeit outdoor apparel has caused issues for customers and brands alike, with a number of high-profile legal cases taking place recently; such as Canada Goose's fight against counterfeit-selling websites and Moose Knuckles counterfeit legal victory.
Red Points' study finds counterfeit-prone customers
Red Points conducted research into what would attract customers to counterfeits, given their lower quality. The study focuses on outdoor apparel customers in the US., their buying habits and attitudes towards counterfeits; the report indicates some alarming trends are taking place within the sector.
The research suggests that outdoor apparel customers can be easily seduced into risky buying behaviour if there is a financial incentive. For example, while only a small proportion (mainly the under 25s) trusted social media as a method of purchasing outdoor apparel items, 41% would consider using this method if the item was significantly discounted.
With regards to actual contact with counterfeits, 20% of the participants had knowingly bought a fake item at some point, despite our sample showing good awareness levels about the dangers of inferior, counterfeit products.
The survey looked into the reactions of participants who had bought counterfeits, either knowingly or unknowingly, and found that 16% were satisfied with the fake product and recommended it as an inexpensive alternative. This should be a red flag for brands, as it would imply there is a significant portion of their consumer-base who may actively switch to counterfeits and act as advocates for the products. It is likely that this is the same group of customers who buy outdoor apparel items for their style and fashion purposes, as the fakes would almost certainly not meet the same performance standards as the genuine product.
Customers blame brands and platforms
The survey concludes by asking the sample who they feel is responsible for removing counterfeit items from online channels. While the majority of participants stated that they would blame the ecommerce platform, 46% feel the brand owner is also responsible.
If the results of this study prove even close to being representative of the market, then this has enormous implications for brands' marketing strategy, sales tactics and brand protection. For more details, download the complete research via the image below.